The Road to Missional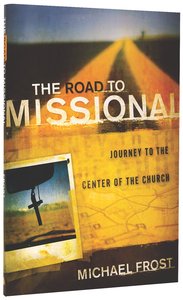 Discover a whole new way of following Jesus.

It has recently become acceptable, and even fashionable, to refer to one's church as "missional." But many churches misunderstand the concept, thinking of "going missional" as simply being a necessary add-on to church-as-usual. This domestication of what is actually a very bold paradigm shift makes missional nothing more than one more trick to see church growth.

With a light hand and a pastoral spirit, Michael Frost points out how most of us are not quite there yet. He reestablishes the ground rules, redefines the terms accurately, and insists that the true prophetic essence of "being missional" comes through undiluted. This clear corrective will take ministry leaders from "not missional yet" to well on their way.

Endorsements:
"In The Road to Missional Michael Frost provides a prophetic call to examine all we do in light of the mission of God. I'm thankful to have his provocative voice in the missional conversation. Michael is a friend to the church and a man who deeply loves the mission of God."
- Ed Stetzer, coauthor of Compelled by Love

"Every week or two a new missional book arrives on my desk. By and large they are getting better and better, and this one is the best one yet. It's all here--divine origins, shifting evangelism, cross, resurrection, and holistic redemption--in accessible form. This is the first book to give someone who says 'What is missional?'"
- Scot McKnight, Karl A. Olsson Professor in Religious Studies, North Park University; author of One.Life



- Publisher
You May Also Be Interested In
About "The Road to Missional"
Discover a whole new way of following Jesus.

It has recently become acceptable, and even fashionable, to refer to one's church as "missional." But many churches misunderstand the concept, thinking of "going missional" as simply being a necessary add-on to church-as-usual. This domestication of what is actually a very bold paradigm shift makes missional nothing more than one more trick to see church growth.

With a light hand and a pastoral spirit, Michael Frost points out how most of us are not quite there yet. He reestablishes the ground rules, redefines the terms accurately, and insists that the true prophetic essence of "being missional" comes through undiluted. This clear corrective will take ministry leaders from "not missional yet" to well on their way.

Endorsements:
"In The Road to Missional Michael Frost provides a prophetic call to examine all we do in light of the mission of God. I'm thankful to have his provocative voice in the missional conversation. Michael is a friend to the church and a man who deeply loves the mission of God."
- Ed Stetzer, coauthor of Compelled by Love

"Every week or two a new missional book arrives on my desk. By and large they are getting better and better, and this one is the best one yet. It's all here--divine origins, shifting evangelism, cross, resurrection, and holistic redemption--in accessible form. This is the first book to give someone who says 'What is missional?'"
- Scot McKnight, Karl A. Olsson Professor in Religious Studies, North Park University; author of One.Life


- Publisher


Meet the Author
Michael Frost
Michael Frost (D.Min) is Vice-Principal and Professor of Evangelism and Missions at Morling College in Sydney, Australia - and a Baptist Minister. He is the author of Exiles: Living Missionally in a Post-Christian Culture; Jesus the Fool: The Mission of the Unconventional Christ; Seeing God in the Ordinary: A Theology of the Everyday and the co-author of The Shaping of Things to Come: Innovation and Mission for the 21st-Century Church and ReJesus: A Wild Messiah for a Missional Church.