The Role of Women in the Church (2nd Edition)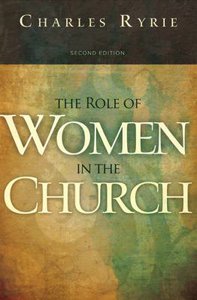 Out of print in recent years, this newly revised edition of Charles Ryrie'sThe Role of Women in the Church, featuring a new foreword by Dorothy Kelley Patterson, proves its ongoing relevance in addressing what is still a divisive issue at the forefront of Christendom: What can a woman do in the church of God? 

With clarity and depth, Ryrie recounts the status of women in ancient Greece and Rome. He looks at the significance of Mary as Christ's mother, the attitude of Jesus toward women, and at women as ministers to Jesus. There are Scripture based chapters on marriage, celibacy, and divorce as well as a woman's place in church life. The book's final section examines the status of women in the church during the second and third centuries. 

In sum, Patterson views Ryrie's work as "a masterpiece of blending both historical records with biblical exegesis to present a well-reasoned biblical answer to the burning question from this generation and those to come."

- Publisher
You May Also Be Interested In
About "The Role of Women in the Church (2nd Edition)"
Out of print in recent years, this newly revised edition of Charles Ryrie'sThe Role of Women in the Church, featuring a new foreword by Dorothy Kelley Patterson, proves its ongoing relevance in addressing what is still a divisive issue at the forefront of Christendom: What can a woman do in the church of God? 

With clarity and depth, Ryrie recounts the status of women in ancient Greece and Rome. He looks at the significance of Mary as Christ's mother, the attitude of Jesus toward women, and at women as ministers to Jesus. There are Scripture based chapters on marriage, celibacy, and divorce as well as a woman's place in church life. The book's final section examines the status of women in the church during the second and third centuries. 

In sum, Patterson views Ryrie's work as "a masterpiece of blending both historical records with biblical exegesis to present a well-reasoned biblical answer to the burning question from this generation and those to come."
- Publisher


Meet the Author
Charles C Ryrie
Charles C. Ryrie received his Master of Theology and doctor of Theology degrees from Dallas Theological Seminary, and his PhD from the University of Edinburgh. He was also awarded a Doctor of Letters degree by Liberty Baptist Theological Seminary in Lynchburg, Virginia. Ryrie served as the president of the Philadelphia College of Bible (now Philadelphia Biblical University), and as the chair of the department of systematic theology and dean of doctoral studies at Dallas Theological Seminary. He has published books on various topics such as theology, the Christian life, and dispensationalism.