The Rook (#02 in The Bowers Files Series)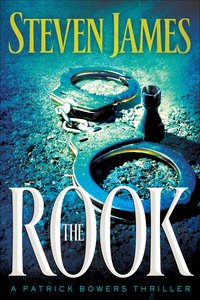 An arsonist has struck a top-secret research facility at a key US naval base. But it's not just a random terrorist attack. These people were after something specific. When Special Agent Patrick Bowers is called in to investigate, he is drawn into a deadly web of intrigue and deception. With his own criminology research being turned against him and one of the world's most deadly devices missing, Bowers is caught up in a race against time to stop an international assassin before it's too late.
Full of fast-paced action and mind-bending plot twists, The Rook is an adrenaline-laced page-turner that will keep readers up all night. Book 2 in the Bowers Files, this riveting look into the criminal mind is the perfect follow-up to James's well-reviewed The Pawn.

- Publisher
You May Also Be Interested In
About "The Rook (#02 in The Bowers Files Series)"
An arsonist has struck a top-secret research facility at a key US naval base. But it's not just a random terrorist attack. These people were after something specific. When Special Agent Patrick Bowers is called in to investigate, he is drawn into a deadly web of intrigue and deception. With his own criminology research being turned against him and one of the world's most deadly devices missing, Bowers is caught up in a race against time to stop an international assassin before it's too late.
Full of fast-paced action and mind-bending plot twists, The Rook is an adrenaline-laced page-turner that will keep readers up all night. Book 2 in the Bowers Files, this riveting look into the criminal mind is the perfect follow-up to James's well-reviewed The Pawn.
- Publisher


Meet the Author
Steven James
Steven James is an award-winning author and professional storyteller. He has written more than a dozen books and over 500 articles, stories, and scripts. Steven appears weekly at conferences, churches, schools, and special events around the country sharing his unique blend of drama, comedy, and inspirational speaking. He lives with his wife and three daughters in eastern Tennessee.
Other Titles In The "The Bowers Files Series" Series View All