The Rose of Winslow Street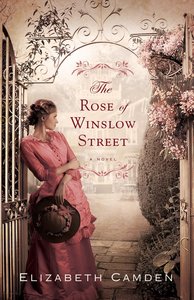 Romance and Drama to Capture the Heart in This Emotional Tale

The last thing Libby Sawyer and her father expected upon their return from their summer home was to find strangers inhabiting a house that had been in their family for decades. Widower Michael Dobrescu brought his family from Romania to the town of Colden, Massachusetts with a singular purpose: to claim the house willed to him long ago. Since neither party has any intention of giving up their claim, a fierce legal battle ensues between the two families.

When important documents go missing from the house, Libby suspects Michael is the culprit. Determined to discover the truth behind the stolen papers, Libby investigates, only to find more layers of mystery surrounding Michael and his family. Despite their rivalry, Libby finds herself developing feelings for this man with the mysterious past.

As a decision about the house looms in the courts, Libby must weigh the risks of choosing to remain loyal to her family or give her heart to a man whose intentions and affections are less than certain.

- Publisher
You May Also Be Interested In
About "The Rose of Winslow Street"
Romance and Drama to Capture the Heart in This Emotional Tale

The last thing Libby Sawyer and her father expected upon their return from their summer home was to find strangers inhabiting a house that had been in their family for decades. Widower Michael Dobrescu brought his family from Romania to the town of Colden, Massachusetts with a singular purpose: to claim the house willed to him long ago. Since neither party has any intention of giving up their claim, a fierce legal battle ensues between the two families.

When important documents go missing from the house, Libby suspects Michael is the culprit. Determined to discover the truth behind the stolen papers, Libby investigates, only to find more layers of mystery surrounding Michael and his family. Despite their rivalry, Libby finds herself developing feelings for this man with the mysterious past.

As a decision about the house looms in the courts, Libby must weigh the risks of choosing to remain loyal to her family or give her heart to a man whose intentions and affections are less than certain.
- Publisher


Meet the Author
Elizabeth Camden
Elizabeth Camden, author of "The Lady of Bolton Hill" and "The Rose of Winslow Stree"t, received a master's in history from University of Virginia and a master's in library science from Indiana University. She is a research librarian by day and scribbles away on her next novel by night. Elizabeth is a member of ACFW and RWA and lives with her husband in Florida. Visit her website at ElizabethCamden.com A
Customer Reviews For "The Rose of Winslow Street"
Write Your Own Review
Wonderful
By Lynne Stringer,

Mar 10 2014
I was going to give this book five stars, but the ending let it down. It felt far too abrupt and slipped into a bit of telling rather than showing. I wanted a bit more conversation and involvement in the resolution.
My only other complaint was how quickly Libby seemed to feel something for Michael. It seemed unusually quick, given their situation. However, the rest of the book was wonderful. It was meticulous and entertaining, with interesting characters and situations that were different from many other novels I've read. It's a good read.
---
Enjoyable read
By Audrey,

Sep 04 2013
I thoroughly enjoyed this book. Very interesting characters. This was the first time that I read a book by this author and was won over. I can not wait to read another of her books. It is so refreshing to get characters that are a little different from the usual run of the mill characters. They had real problems in their lives and over came them by the grace of God and lots of determination. Even though it is fiction, these kind of books are time and again such an encouragement for me that I truly feel blessed to have been able to read them.
---
Second glances
By Jessica R. Wakefield,

Oct 19 2012

I was eagerly awaiting Elizabeth's latest book after having read The Lady of Bolton Hill. So when it came out I downloaded it on my phone. I got through the first chapter and had to put the book down. I didn't like Michael Dobrescu, the male lead, at all. To put it a better way, I got a very bad first impression of him. I wasn't able to pick up the book again until two weeks later. I couldn't give up on the book because what I had read in the first chapter was so well written and engaging - I just didn't like Michael. This book deserved to be read and Michael deserved another chance.

So two weeks later, I picked up where I left off and the next day I was finished and I had been completely won over by Michael! There is so much to love about this book. From Michael's sheer size and his "gentle giant" nature to his innate desire and ability to protect those he loves through sheer force and determination. Libby herself is a strong woman who faces her own insecurities and doubts about herself. Circumstances lead Michael and Libby to move past stereotypes and to forge a deeper bond and understanding of each other. Through Michael's love and affirmation, Libby begins to accept herself as a child loved by God for exactly who is she, and nothing else.

Besides these two, Elizabeth has given us a whole host of intriguing characters who add so much to this already beautiful story. Lady Mirela's story weaves so beautifully through the book and my heart broke for her and all that she has suffered. Libby's tenuous relationship with her father, Professor Sawyer, is pushed to the limits when a secret is revealed from another section of Libby's family. 

I really enjoyed this book and was very gratified to know that my first impression of Michael was just that - a first impression! A quote from Jane Austen's Pride and Prejudice says it all: "...but that from knowing him better, his disposition was better understood."
{{review.title}}
By {{review.author.name}},

{{review.reviewCreatedDate | date:'MMM dd yyyy'}}

{{reviewdescription}}
{{review.text}}
---