The Rules of Engagement For Overcoming Your Past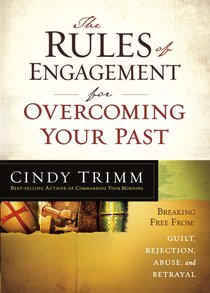 : General spiritual warfare books are important-but when you have a specific issue in your life, you need a specific prayer strategy.We all have things in our past that can derail our futures if we don't learn how to overcome them. In the powerful style that her fans have come to expect, Cindy Trimm identifies the spirits that attack us through our past experiences and provides specific scriptures, prayers, and declarations for breaking their power.There is a spiritual battle going on, and The Rules of Engagement for Overcoming Your Past is a manual to help you wage effective warfare. It is time to take a stand against the powers of Satan. Using the authority you have been given by God, you can enter the realm of prayer-power and break the spirits of&...· Guilt· Rejection· Abuse· Betrayal, and more!

- Publisher
You May Also Be Interested In
About "The Rules of Engagement For Overcoming Your Past"
: General spiritual warfare books are important-but when you have a specific issue in your life, you need a specific prayer strategy.We all have things in our past that can derail our futures if we don't learn how to overcome them. In the powerful style that her fans have come to expect, Cindy Trimm identifies the spirits that attack us through our past experiences and provides specific scriptures, prayers, and declarations for breaking their power.There is a spiritual battle going on, and The Rules of Engagement for Overcoming Your Past is a manual to help you wage effective warfare. It is time to take a stand against the powers of Satan. Using the authority you have been given by God, you can enter the realm of prayer-power and break the spirits of&...· Guilt· Rejection· Abuse· Betrayal, and more!
- Publisher


Meet the Author
Cindy Trimm
Dr. Cindy Trimm is an empowerment specialist, respected prophetic voice, bestselling author, life coach, Ambassador of Hope, and a twenty-first century world leader who has partnered with heads of state, business moguls, politicians, church, civic, and world leaders for more than 30 years to equip and empower millions to maximize their potential. She founded Cindy Trimm International (CTI) to bring practical solutions to spiritual and social ills and has received multiple honors and awards. She is the author ofThe Rules of EngagementandCommanding Your Morning,and has been featured on many television, streaming, and radio programs.