The Sacraments in Protestant Practice and Faith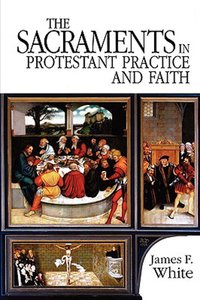 208 pages

- Publisher The sacraments were a major factor in the Reformation of the sixteenth century. Ever since, they have been an important part of Protestant church life. Major changes have occurred in our time as most traditions have revised their sacramental rites and experienced many changes in sacramental practices. This book traces the most significant practices in the past five centuries, explains how they often led to controversies, and examines the faith that was expressed and experienced in the sacraments. James F. White attempts to depict the whole sweep of Protestant sacramental life, so that an overall picture is possible. And he outlines the possibilities for future developments.

- Publisher
You May Also Be Interested In
About "The Sacraments in Protestant Practice and Faith"
208 pages
- Publisher

The sacraments were a major factor in the Reformation of the sixteenth century. Ever since, they have been an important part of Protestant church life. Major changes have occurred in our time as most traditions have revised their sacramental rites and experienced many changes in sacramental practices. This book traces the most significant practices in the past five centuries, explains how they often led to controversies, and examines the faith that was expressed and experienced in the sacraments. James F. White attempts to depict the whole sweep of Protestant sacramental life, so that an overall picture is possible. And he outlines the possibilities for future developments.
- Publisher


Meet the Author
James R White
James R. White is the author of several acclaimed books, including The King James Only Controversy, The God Who Justifies, Scripture Alone:Exploring the Bible's Accuracy, Authority and Authenticity; Same Sex Controversy:Defending and Clarifying the Bible's Message About Homosexuality and The Forgotten Trinity. He is an elder of the Phoenix Reformed Baptist Church, director of Alpha and Omega Ministriesa Christian apologetics organization, an adjunct professor with Golden Gate Baptist Theological Seminary, and a professor of apologetics with Columbia Evangelical Seminary. He and his family live in Phoenix.