The Science of Virtue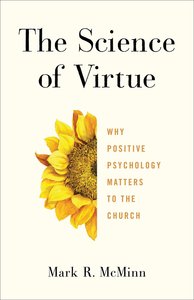 The church and science have drifted apart over the past century. Today the church is often deemed irrelevant by those who trust science, and science is often deemed irrelevant by those whose primary loyalties are to the church. However, this book shows that the new science of virtue--the field of positive psychology--can serve as a bridge point between science and the church and can help renew meaningful conversation.

In essence, positive psychology examines how ordinary people can become happier and more fulfilled. Mark McMinn clarifies how positive psychology can complement Christian faith and promote happiness and personal flourishing. In addition, he shows how the church can help strengthen positive psychology. McMinn brings the church's experience and wisdom on six virtues--humility, forgiveness, gratitude, grace, hope, and wisdom--into conversation with intriguing scientific findings from positive psychology. Each chapter includes a section addressing Christian counselors who seek to promote happiness and fulfillment in others.

- Publisher
You May Also Be Interested In
About "The Science of Virtue"
The church and science have drifted apart over the past century. Today the church is often deemed irrelevant by those who trust science, and science is often deemed irrelevant by those whose primary loyalties are to the church. However, this book shows that the new science of virtue--the field of positive psychology--can serve as a bridge point between science and the church and can help renew meaningful conversation.

In essence, positive psychology examines how ordinary people can become happier and more fulfilled. Mark McMinn clarifies how positive psychology can complement Christian faith and promote happiness and personal flourishing. In addition, he shows how the church can help strengthen positive psychology. McMinn brings the church's experience and wisdom on six virtues--humility, forgiveness, gratitude, grace, hope, and wisdom--into conversation with intriguing scientific findings from positive psychology. Each chapter includes a section addressing Christian counselors who seek to promote happiness and fulfillment in others.
- Publisher


Meet the Author
Mark R Mcminn
Mark R. McMinn (Ph.D., Vanderbilt University) is a professor of psychology at George Fox University where he teaches in the Graduate Department of Clinical Psychology, he was previously Professor of Psychology at Wheaton College for 13 years.. He is a licensed clinical psychologist, board certified with the American Board of Professional Psychology and a Fellow of the American Psychological Association. He has written several books, including Psychology, Theology, and Spirituality in Christian Counseling; Making the Best of Stress; Care for the Soul; Why Sin Matters, Integrative Psychotherapy, Sin and Grace in Christian Counseling: An Integrative Paradigm and the award winning Finding Our Way Home.
Table Of Contents
The Church And Science Have Drifted Apart Over The Past Century. Today The Church Is Often Deemed Irrelevant By Those Who Trust Science, And Science Is Often Deemed Irrelevant By Those Whose Primary Loyalties Are To The Church. However, This Book Shows That The New Science Of Virtue--the Field Of Positive Psychology--can Serve As A Bridge Point Between Science And The Church And Can Help Renew Meaningful Conversation.

In Essence, Positive Psychology Examines How Ordinary People Can Become Happier And More Fulfilled. Mark Mcminn Clarifies How Positive Psychology Can Complement Christian Faith And Promote Happiness And Personal Flourishing. In Addition, He Shows How The Church Can Help Strengthen Positive Psychology. Mcminn Brings The Church's Experience And Wisdom On Six Virtues--humility, Forgiveness, Gratitude, Grace, Hope, And Wisdom--into Conversation With Intriguing Scientific Findings From Positive Psychology. Each Chapter Includes A Section Addressing Christian Counselors Who Seek To Promote Happiness And Fulfillment In Others.