The Season of Creation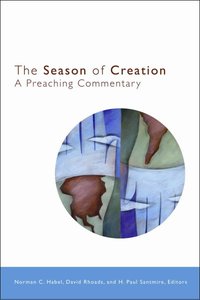 How can Christian congregations deepen awareness of and express their concern for the health of creation through worship and proclamation? This book offers congregational leaders a host of biblical and liturgical resources to guide people into deeper connection with our imperiled Earth through a yearly observance of a new Season of Creation.

- Publisher
You May Also Be Interested In
About "The Season of Creation"
How can Christian congregations deepen awareness of and express their concern for the health of creation through worship and proclamation? This book offers congregational leaders a host of biblical and liturgical resources to guide people into deeper connection with our imperiled Earth through a yearly observance of a new Season of Creation.
- Publisher


Meet the Authors
Norman C Habel (Ed)
Norman C. Habel, Ph.D. (1964), Concordia Seminary, is Professorial Fellow at Flinders University of South Australia. He is editor of the five-volume series, The Earth Bible (Pilgrim Press). Peter Trudinger, Ph.D. (2002), in Hebrew Bible (Psalms), Emory University, is Senior Lecturer in Biblical Studies at Flinders University, and the author of The Psalms of the Tamid Service: A Liturgical Text from the Second Temple (Brill).
David Rhoads (Ed)
David Rhoads is Professor of New Testament at the Lutheran School of Theology, Chicago.
H Paul Santmire
H. Paul Santmire has been a leader in the field of ecological theology for more than thirty-five years. Ordained in the Evangelical Lutheran Church in America, he is the author of The Travail of Nature: The Ambiguous Ecological Promise of Christian Theology (1991, 978-0-8006-1806-3) and Nature Reborn: The Ecological and Cosmic Promise of Christian Theology (2000, 978-0-8006-3234-2). He lives and writes in the Boston area.