The Secret Keeper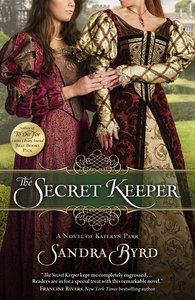 The author of To Die For returns to the court of Henry VIII, as a young woman is caught between love and honor.

What she sees in secret, she may not tell.
&&&& Mistress Juliana St. John is the lovely, forthright daughter of a prosperous knight's family. Though all expect her to marry the son of her late father's business partner, time and chance interrupt, sending her to the sumptuous but deceptive court of Henry VIII.
&&&& Sir Thomas Seymour, brother of the late Queen Jane, returns to Wiltshire to conclude his affairs with Juliana's father's estate and chances upon her reading as lector in the local church. He sees instantly that she would fit into the household of the woman he loves and wants most to please, Kateryn Parr. Juliana's mother agrees to have her placed with Parr for a season and Juliana goes, though reluctantly.
&&&& For she keeps a secret.
&&&& As Juliana accompanies Kateryn Parr to court, Henry's devout sixth queen rai

- Publisher
You May Also Be Interested In
About "The Secret Keeper"
The author of To Die For returns to the court of Henry VIII, as a young woman is caught between love and honor.

What she sees in secret, she may not tell.
&&&& Mistress Juliana St. John is the lovely, forthright daughter of a prosperous knight's family. Though all expect her to marry the son of her late father's business partner, time and chance interrupt, sending her to the sumptuous but deceptive court of Henry VIII.
&&&& Sir Thomas Seymour, brother of the late Queen Jane, returns to Wiltshire to conclude his affairs with Juliana's father's estate and chances upon her reading as lector in the local church. He sees instantly that she would fit into the household of the woman he loves and wants most to please, Kateryn Parr. Juliana's mother agrees to have her placed with Parr for a season and Juliana goes, though reluctantly.
&&&& For she keeps a secret.
&&&& As Juliana accompanies Kateryn Parr to court, Henry's devout sixth queen rai
- Publisher


Meet the Author
Sandra Byrd
Sandra Byrd has published more than three dozen books in the Christian fiction and nonfiction market, including her series for adults, French Twist, which includes the Christy finalist "Let Them Eat Cake".