The Secret Life of Sarah Hollenbeck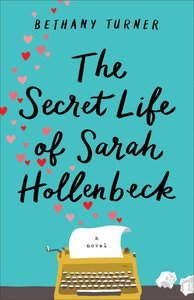 Becoming a Christian is the best and worst thing that has ever happened to Sarah Hollenbeck. Best because, well, that's obvious. Worst because, up to this point, she's made her very comfortable living as a well-known, bestselling author of steamy romance novels that would leave the members of her new church blushing. Now Sarah is trying to reconcile her past with the future she's chosen. She's still under contract with her publisher and on the hook with her enormous fan base for the kind of book she's not sure she can write anymore. She's beginning to think that the church might frown on her tithing on royalties from a "scandalous" book. And the fact that she's falling in love with her pastor doesn't make things any easier.

With a powerful voice, penetrating insight, and plenty of wit, Bethany Turner explodes onto the scene with a debut that isn't afraid to deal with the thorny realities of living the Christian life.

- Publisher
You May Also Be Interested In
About "The Secret Life of Sarah Hollenbeck"
Becoming a Christian is the best and worst thing that has ever happened to Sarah Hollenbeck. Best because, well, that's obvious. Worst because, up to this point, she's made her very comfortable living as a well-known, bestselling author of steamy romance novels that would leave the members of her new church blushing. Now Sarah is trying to reconcile her past with the future she's chosen. She's still under contract with her publisher and on the hook with her enormous fan base for the kind of book she's not sure she can write anymore. She's beginning to think that the church might frown on her tithing on royalties from a "scandalous" book. And the fact that she's falling in love with her pastor doesn't make things any easier.

With a powerful voice, penetrating insight, and plenty of wit, Bethany Turner explodes onto the scene with a debut that isn't afraid to deal with the thorny realities of living the Christian life.
- Publisher


Meet the Author
Bethany Turner
Bethany Turner was born and raised in Kentucky, but now lives in Colorado with her husband and two sons. She studied theatre at the University of Kentucky before going on to a career in bank management, which eventually gave way to writing. She finally knows what she wants to be when she grows up. Visit www.seebethanywrite.com.