The Secrets of the Koran: Revelaing Insights Into Islam's Holy Book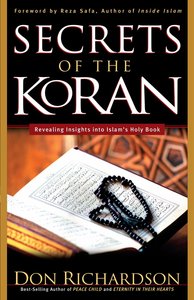 Forget all those evening news sound bites or diplomatically correct half-truths about the Koran and the religion of Islam. If you want to know what the Koran is really about, you have to know what it really says. Don Richardson gives you a nitty-gritty inside look at the Koran, helping to separate fact from fiction. These hard-hitting observations are not the author's opinion based on what he thinks the Koran seems to imply. Muslim boys are indoctrinated in military camps. Madrasa schools force memorization and repetition of the Koran, particularly those verses that promise heavenly rewards for martyrdom. It took courage to write this serious, documented, and well-sourced book. But the price of truth is courage, regardless of one's religion.

- Publisher
You May Also Be Interested In
About "The Secrets of the Koran: Revelaing Insights Into Islam's Holy Book"
Forget all those evening news sound bites or diplomatically correct half-truths about the Koran and the religion of Islam. If you want to know what the Koran is really about, you have to know what it really says. Don Richardson gives you a nitty-gritty inside look at the Koran, helping to separate fact from fiction. These hard-hitting observations are not the author's opinion based on what he thinks the Koran seems to imply. Muslim boys are indoctrinated in military camps. Madrasa schools force memorization and repetition of the Koran, particularly those verses that promise heavenly rewards for martyrdom. It took courage to write this serious, documented, and well-sourced book. But the price of truth is courage, regardless of one's religion.
- Publisher


Meet the Author
Don Richardson
DON RICHARDSON, author of Secrets of the Koran, Lords of the Earth and Peace Child, has been studying the Muslim world for over 30 years. He and his late wife, Carol, spent 15 years among the Sawi, a Stone Age tribe of Irian Jaya. Don designed an alphabet suited to the Sawi language, authored 19 primers, taught the tribesmen to read in their native tongue and translated the entire New Testament. more than half of the Sawi accepted Jesus Christ as their Lord and Savior. Since 1977, Don has served as ambassador-at-large for World Team, a mission organization. Don holds an honorary Doctorate of literature from Biola University in La Mirada, California, is an ordained pastor and speaks at more than 40 church conferences each year.