The Self-Aware Leader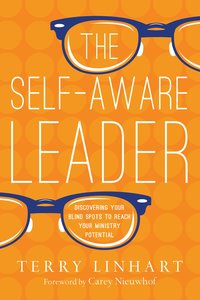 Effective ministry begins here.You've studied what you think you need to know before entering a career in ministry. Is there anything that is more important than knowing about hermeneutics, homiletics, theology, exegesis, and everything else you have likely learned in seminary and church ministry so far? Yes, there is. How well do you know yourself?You need to build your ministry career on the right foundation of an objective understanding of self. If you don't comprehend your strengths and weaknesses, then you won't be fully prepared to enter the crucible of ministry. Serving as a pastor is one of the toughest calls there is. But it can also be one of the most fulfilling and rewarding, especially if you have taken the time to examine both your gifts and vulnerabilities.The church needs leaders who have the clear-eyed courage to pursue the hardest part of the ministry journey: seeing yourself. The Self-Aware Leader will help you to do just that.

- Publisher
You May Also Be Interested In
About "The Self-Aware Leader"
Effective ministry begins here.You've studied what you think you need to know before entering a career in ministry. Is there anything that is more important than knowing about hermeneutics, homiletics, theology, exegesis, and everything else you have likely learned in seminary and church ministry so far? Yes, there is. How well do you know yourself?You need to build your ministry career on the right foundation of an objective understanding of self. If you don't comprehend your strengths and weaknesses, then you won't be fully prepared to enter the crucible of ministry. Serving as a pastor is one of the toughest calls there is. But it can also be one of the most fulfilling and rewarding, especially if you have taken the time to examine both your gifts and vulnerabilities.The church needs leaders who have the clear-eyed courage to pursue the hardest part of the ministry journey: seeing yourself. The Self-Aware Leader will help you to do just that.
- Publisher


Meet the Authors
Terry Linhart
Terry Linhart (Ph.D., Purdue University) is a veteran youth worker who teaches at Bethel College, in Indiana, where he also serves as the dean of the School of Religion and Philosophy and Associate Professor of Youth Ministry. His research and writing has focused on short-term missions and multicultural ministry. He is the author of Middle School Talksheets: Life of Christ and High School Talksheets: Life of Christ. He is the co-author of Evangelism Remixed: Empowering Students for Courageous and Contagious Faith.
Carey Nieuwhof
CAREY NIEUWHOF is a former lawyer and the founding pastor of Connexus Church in Barrie, Ontario, one of the most influential churches in North America. He is a much sought after speaker, podcaster, and thought leader, regularly appearing at major US conferences and events such as Orange, Exponential, and Lifeway's Pipeline Leadership Conference. With millions of listeners regularly tuning in, The Carey Nieuwhof Leadership Podcast features today's top leaders and cultural influencers. Carey and his wife, Toni, reside near Barrie, Ontario and have two children.

Table Of Contents
effective Ministry Begins Here.you've Studied What You Think You Need To Know Before Entering A Career In Ministry. Is There Anything That Is More Important Than Knowing About Hermeneutics, Homiletics, Theology, Exegesis, And Everything Else You Have Likely Learned In Seminary And Church Ministry So Far? Yes, There Is. How Well Do You Know Yourself?you Need To Build Your Ministry Career On The Right Foundation Of An Objective Understanding Of Self. If You Don't Comprehend Your Strengths And Weaknesses, Then You Won't Be Fully Prepared To Enter The Crucible Of Ministry. Serving As A Pastor Is One Of The Toughest Calls There Is. But It Can Also Be One Of The Most Fulfilling And Rewarding, Especially If You Have Taken The Time To Examine Both Your Gifts And Vulnerabilities.the Church Needs Leaders Who Have The Clear-eyed Courage To Pursue The Hardest Part Of The Ministry Journey: Seeing Yourself. the Self-aware Leader Will Help You To Do Just That.