The Seraph Seal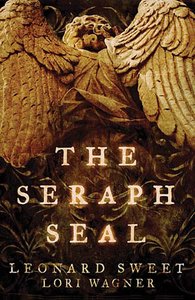 An epic tale of good and evil based on the four horsemen of the Apocalypse found in the book of Revelation.

Using the four horsemen of the Apocalypse to symbolize the four Gospels, four transcendentals, and four forces of the universe (air, water, earth, and fire), Sweet and Wagner weave a fast-paced, end-times tale of good vs. evil and the promise of a new dawn for humanity.

Set in 2048, when planet Earth is suffering from the damaging effects of years of misuse and abuse, cultural history professor Paul Binder receives a mysterious letter that leads him to examine a lost 2nd-century Diatessaron manuscript. Ancient prophecies, cryptic letters, and strange events set him on a course to uncover the missing clues that could lead humanity into a new age. Each character embodies elements of the four horsemen in a race to save the world from total destruction. Layered with forgotten symbolism from the ancient Jewish and Christian traditions, the book is a story in which the main character's journal serves as a guide to the reader in interpreting clues and understanding the conclusion.

- Publisher
You May Also Be Interested In
About "The Seraph Seal"
An epic tale of good and evil based on the four horsemen of the Apocalypse found in the book of Revelation.

Using the four horsemen of the Apocalypse to symbolize the four Gospels, four transcendentals, and four forces of the universe (air, water, earth, and fire), Sweet and Wagner weave a fast-paced, end-times tale of good vs. evil and the promise of a new dawn for humanity.

Set in 2048, when planet Earth is suffering from the damaging effects of years of misuse and abuse, cultural history professor Paul Binder receives a mysterious letter that leads him to examine a lost 2nd-century Diatessaron manuscript. Ancient prophecies, cryptic letters, and strange events set him on a course to uncover the missing clues that could lead humanity into a new age. Each character embodies elements of the four horsemen in a race to save the world from total destruction. Layered with forgotten symbolism from the ancient Jewish and Christian traditions, the book is a story in which the main character's journal serves as a guide to the reader in interpreting clues and understanding the conclusion.

- Publisher
- Koorong

2012: An ancient prophecy quietly unfolds as a fragmenting world accelerates its descent into massive chaos.

Then, in 2048, the prophecy comes to fruition. US president Matthew Serafino is sworn into office, and University of Virginia historian Paul Binder receives a cryptic but summoning message. Strange circumstances and bizarre discoveries lead Paul to London, where he meets a brilliant and beautiful manuscript specialist, Angela Matthews Krall, in order to decipher an unknown Syrian manuscript with special powers. Together, they uncover clues that lead them both down a mysterious, life-or-death path.

Global intrigue, cascading natural catastrophes, and a complexity of characters, motives, and symbolic traditions intersect as Paul and Angela delve into forgotten traditions and lost meanings. Life-changing discoveries force them to struggle with questions about their own faith and the nature of truth and hope. Suddenly they find themselves positioned either to lead humanity into a new future or to watch as the earth dissolves into total destruction.

The Seraph Seal combines apocalyptic intrigue with a journey of love and discovery that blurs the lines between fact and fiction. It will lead you into a world where only you can determine the future of the earth as we know it.

- Publisher


Meet the Authors
Leonard Sweet
Leonard Sweet (PhD., University of Rochester), is founder and president of SpiritVenture Ministries and serves as the E. Stanley Jones Professor of Evangelism at Drew Theological School in Madison, New Jersey. He also is a Distinguished Visiting Professor at George Fox University in Newberg, Oregon, and the chief writer for preachingplus.com, a resource for pastors and other Christian speakers. A popular speaker himself, Sweet has written more than twenty books, including The Three Hardest Words, Out of the Question Into the Mystery, AquaChurch, SoulTsunami, and SoulSalsa.
Lori Wagner
Lori Wagner is a ministry leader and writer who has published poetry, articles, and reviews on cultural studies of science and literature and has taught undergraduate and graduate courses in writing, English and German literature, and science and culture for over twenty five years.