The Sermon on the Mount Through the Centuries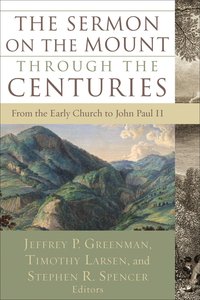 Believers around the world and throughout time have relied on their knowledge of the Lord's Prayer, the Beatitudes, and the Golden Rule. The Sermon on the Mount through the Centuries offers illuminating insights into our identity in Christ as it is found in his most famous words. These enlightening essays will heighten the reader's relationship with Christ and make the founders of the faith wholly accessible today. Contributors include Stanley Hauerwas, David Lyle Jeffrey, Margaret M. Mitchell, Mark A. Noll, and Robert L. Wilken.

- Publisher
You May Also Be Interested In
About "The Sermon on the Mount Through the Centuries"
Believers around the world and throughout time have relied on their knowledge of the Lord's Prayer, the Beatitudes, and the Golden Rule. The Sermon on the Mount through the Centuries offers illuminating insights into our identity in Christ as it is found in his most famous words. These enlightening essays will heighten the reader's relationship with Christ and make the founders of the faith wholly accessible today. Contributors include Stanley Hauerwas, David Lyle Jeffrey, Margaret M. Mitchell, Mark A. Noll, and Robert L. Wilken.
- Publisher


Meet the Authors
Jeffrey Greenman (Ed)
Jeffrey Greenman (Ph.D., University of Virginia) is Associate Dean of Biblical and Theological Studies and Professor of Christian Ethics at Wheaton College, Wheaton, Illinois. He is a co-author with George Sumner of Unwearied Praises: Exploring Christian Faith through Classic Hymns and is a co-editor for the books The Sermon on the Mount through the Centuries; Reading Romans through the Centuries: From the Early Church to Karl Barth and Teach Me Your Paths: Studies in Old Testament Literature and Theology.
Timothy Larsen (Ed)
Timothy Larsen (Ph.D. University of Stirling, Scotland) is Professor of Theology at Wheaton College in Wheaton, Illinois. He is a Fellow of the Royal Historical Society and has been elected a Visiting Fellow, Trinity College, Cambridge. He is the author or editor of numerous books including Christabel Pankhurst: Fundamentalism and Feminism in Coalition (Boydell, 2002), with Treier, D. The Cambridge Companion to Evangelical Theology (Cambridge University Press, 2007), with Husbands, M. Women, Ministry, and the Gospel: Exploring New Paradigms (InterVarsity Press, 2007).Crisis of Doubt: Honest Faith in Nineteenth-Century England (Oxford: Oxford University Press) was named The Book of the Year for 2006 by Books and Culture. and Biographical Dictionary of Evangelicals. is regarded as essential reading for those wishing to understand the development of Evangelicalism.
Table Of Contents
Believers Around The World And Throughout Time Have Relied On Their Knowledge Of The Lord's Prayer, The Beatitudes, And The Golden Rule. the Sermon On The Mount Through The Centuries Offers Illuminating Insights Into Our Identity In Christ As It Is Found In His Most Famous Words. These Enlightening Essays Will Heighten The Reader's Relationship With Christ And Make The Founders Of The Faith Wholly Accessible Today. Contributors Include Stanley Hauerwas, David Lyle Jeffrey, Margaret M. Mitchell, Mark A. Noll, And Robert L. Wilken.