The Seven Checkpoints For Student Leaders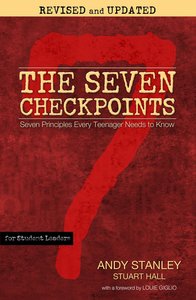 The Seven Checkpoints for Student Leaders is more than a book; it is a ministry plan. It goes far beyond the "how to" of youth ministry and provides youth ministers, youth works, and parents with the content that students need to equip them for 'life beyond youth group." The material in this book and the companion book The Seven Checkpoints Student Journal reveals what Stanley calls "the irreducible minimum"--the essential principles upon which an entire youth ministry can be built. Stanley and Hall offer some unorthodox but very sensible approaches to planning and maintaining a youth group over a long period of time with a specific goal in mind. The book outlines a strategy for effectively teaching students over the course of their time in school, and this new updated edition is what every leader needs to keep up with the ever-changing challenges students face. Stanley and Hall identify seven "checkpoints" that are the most important and critical issues facing teens:

1. Authentic Faith
2. Spiritual Disciplines
3. Moral Boundaries (this section deals primarily with issues of sexual purity and dating)
4. Healthy Friendships
5. Wise Choices
6. Ultimate Authority
7. Others First

Practical application, biblical principles, and realistic approaches for facing modern challenges facilitate teaching for busy youth leaders that will make an impact for eternity.

- Publisher
You May Also Be Interested In
About "The Seven Checkpoints For Student Leaders"
The Seven Checkpoints for Student Leaders is more than a book; it is a ministry plan. It goes far beyond the "how to" of youth ministry and provides youth ministers, youth works, and parents with the content that students need to equip them for 'life beyond youth group." The material in this book and the companion book The Seven Checkpoints Student Journal reveals what Stanley calls "the irreducible minimum"--the essential principles upon which an entire youth ministry can be built. Stanley and Hall offer some unorthodox but very sensible approaches to planning and maintaining a youth group over a long period of time with a specific goal in mind. The book outlines a strategy for effectively teaching students over the course of their time in school, and this new updated edition is what every leader needs to keep up with the ever-changing challenges students face. Stanley and Hall identify seven "checkpoints" that are the most important and critical issues facing teens:

1. Authentic Faith
2. Spiritual Disciplines
3. Moral Boundaries (this section deals primarily with issues of sexual purity and dating)
4. Healthy Friendships
5. Wise Choices
6. Ultimate Authority
7. Others First

Practical application, biblical principles, and realistic approaches for facing modern challenges facilitate teaching for busy youth leaders that will make an impact for eternity.
- Publisher


Meet the Authors
Andy Stanley
Andy Stanley is a pastor, communicator, author, and the founder of North Point Ministries, Inc. (NPM). Since its inception in 1995, North Point Ministries has grown from one campus to three in the Atlanta area, and has helped plant fourteen strategic partner churches throughout the United States. Each Sunday, over 20,000 adults attend worship services at one of NPM's three campuses, North Point Community Church, Browns Bridge Community Church, and Buckhead Church.
Andy's books include It Came From Within; Communicating for a Change; Making Vision Stick; Visioneering; Next Generation Leader and most recently The Grace of God. Andy lives in Alpharetta, Georgia, with his wife, Sandra, and their three children
Stuart Hall
Stuart Hall is the founder and director of Dash Student Leadership, Inc., a nonprofit organization whose mission is to raise the standard of influence among America's students by developing students as spiritual leaders. His more than fifteen years of youth ministry experience include leading three highly successful local church youth ministries and working with the Fellowship of Christian Athletes. He and his wife, Kellee, reside in Cumming, Georgia, with their three children.