The Seven Rules of Success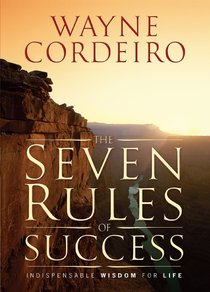 How should I live? What am I supposed to do with my life? Sometimes, in this frantic, noisy world, it's difficult--or downright impossible--to tune in God to hear what He wants. But as this beautiful gift book evokes, the best advice for living is timeless! Popular pastor and author Wayne Cordeiro makes his book come alive with the ageless wisdom mined from six Bible characters. Through their lives--some lived well, others lived tragically in error--readers will discover valuable truths for living. To these character studies, Cordeiro adds his own experiences and stories that will help readers apply each particular life lesson. Readers will find biblical guidance and wise counsel for living life more fully.

- Publisher
You May Also Be Interested In
About "The Seven Rules of Success"
How should I live? What am I supposed to do with my life? Sometimes, in this frantic, noisy world, it's difficult--or downright impossible--to tune in God to hear what He wants. But as this beautiful gift book evokes, the best advice for living is timeless! Popular pastor and author Wayne Cordeiro makes his book come alive with the ageless wisdom mined from six Bible characters. Through their lives--some lived well, others lived tragically in error--readers will discover valuable truths for living. To these character studies, Cordeiro adds his own experiences and stories that will help readers apply each particular life lesson. Readers will find biblical guidance and wise counsel for living life more fully.
- Publisher


Meet the Author
Wayne Cordeiro
Wayne Cordeiro is senior pastor of New Hope Christian Fellowship in Honolulu, Hawaii, one of the nation's fastest growing churches. Pioneered by him, it has grown to over 12,000 in weekend attendance since 1995, with many attendees being first-time Christians. Wayne is an author, songwriter, and highly sought after conference speaker. His books include Doing Church as a Team, Attitudes that Attract Success, The Divine Mentor: Growing Your Faith as You Sit at the Feet of the Savior, and The Dream Releasers. His speaking takes him around the world. He is a church planter at heart and has helped to plant 83 churches in the Pacific Rim. His most recent publication is Leading on Empty: Refilling Your Tank and Renewing Your Passion.