The Seven Sayings of Jesus on the Cross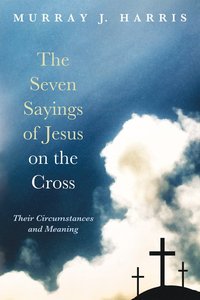 Who of us can possibly imagine the excruciating pain of being crucified? But further, who would imagine that in the midst of this ghastly punishment that brings on unrelenting headaches and mental disorientation, a crucified man would actually give thought to the needs of others? This book explores in detail the nature of crucifixion and then invites the reader to listen in stunned silence to the amazing seven sayings of Jesus of Nazareth while hanging on the cross, as he focuses his attention on others in the first three sayings, and only then on his own distressing situation. His last four sayings give expression to his utter spiritual and physical anguish and conclude with a cry of victory and then a cry in which he commits himself to God.

- Publisher
You May Also Be Interested In
About "The Seven Sayings of Jesus on the Cross"
Who of us can possibly imagine the excruciating pain of being crucified? But further, who would imagine that in the midst of this ghastly punishment that brings on unrelenting headaches and mental disorientation, a crucified man would actually give thought to the needs of others? This book explores in detail the nature of crucifixion and then invites the reader to listen in stunned silence to the amazing seven sayings of Jesus of Nazareth while hanging on the cross, as he focuses his attention on others in the first three sayings, and only then on his own distressing situation. His last four sayings give expression to his utter spiritual and physical anguish and conclude with a cry of victory and then a cry in which he commits himself to God.
- Publisher


Meet the Author
Murray J Harris
Murray J. Harris (Ph.D., University of Manchester) is professor emeritus of New Testament exegesis and theology at Trinity Evangelical Divinity School, Deerfield, Illinois. He is the author of numerous studies of the New Testament, including From Grave to Glory: Resurrection in the New Testament, Jesus as God: The New Testament Use of Theos in Reference to Jesus, Three Crucial Questions about Jesus, Slave of Christ: A New Testament Metaphor for Total Devotion to Christ (Volume 8, New Studies in Biblical Theology), 2 Corinthians (for both The New International Commentary on the Greek New Testament and The Revised Expositer's Bible Commentary), and the volume on Colossians and Philemon (Exegetical Guide to the Greek New Testament series).
Koorong -Editorial Review.