The Seven Signs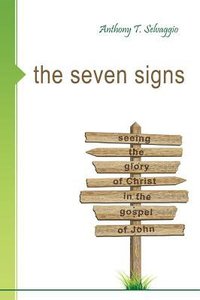 A major component of Jesus' ministry on earth was the performance of signs and wonders. In this book, Anthony T. Selvaggio uses the seven signs given in the first half of the Gospel of John to navigate us toward a glorious destination. This journey begins at a wedding and ends at a funeral. Throughout this trip you will witness the incred ible events of water being turned into wine, the temple cleansed, a sick boy restored, a lame man brought to his feet, thousands feed, a blind man gaining sight, and a dead man com ing forth from his tomb. While this tour centers in the land of Palestine, it will ultimately take you beyond the finiteness of this created world. For on this majestic journey, you will see more than mere signs and wonders - you will see the glory of Jesus the Christ, the Son of God!

- Publisher
You May Also Be Interested In
About "The Seven Signs"
A major component of Jesus' ministry on earth was the performance of signs and wonders. In this book, Anthony T. Selvaggio uses the seven signs given in the first half of the Gospel of John to navigate us toward a glorious destination. This journey begins at a wedding and ends at a funeral. Throughout this trip you will witness the incred ible events of water being turned into wine, the temple cleansed, a sick boy restored, a lame man brought to his feet, thousands feed, a blind man gaining sight, and a dead man com ing forth from his tomb. While this tour centers in the land of Palestine, it will ultimately take you beyond the finiteness of this created world. For on this majestic journey, you will see more than mere signs and wonders - you will see the glory of Jesus the Christ, the Son of God!
- Publisher


Meet the Author
Anthony T Selvaggio
Anthony T Selvaggio (J.D. The University of Buffalo School of Law; M.Div., Reformed Presbyterian Theological Seminary) currently serves as a visiting professor of Biblical Studies at the Reformed Presbyterian Theological Seminary in Pittsburgh, PA. He is also Theologian in Residence at the Rochester Reformed Presbyterian Church in Rochester.