The Shack Revisited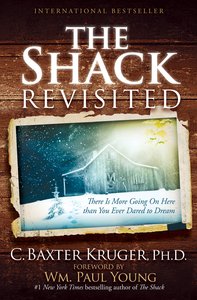 Millions have found their spiritual hunger satisfied by William P. Young's #1 New York Times bestseller, The Shack--the story of a man lifted from the depths of despair through his life-altering encounter with God the Father, God the Son, and God the Holy Spirit. Now C. Baxter Kruger's THE SHACK REVISITED guides readers into a deeper understanding of these three persons to help readers have a more profound connection with the core message of The Shack--that God is love.

An early fan of The Shack and a close friend to its author, Kruger shows why the novel has been enthusiastically embraced by so many Christians worldwide. In the words of William P. Young from the foreword to THE SHACK REVISITED, "Baxter Kruger will stun readers with his unique cross of intellectual brilliance and creative genius as he takes them deeper into the wonder, worship, and possibility that is the world of The Shack."

- Publisher
You May Also Be Interested In
About "The Shack Revisited"
Millions have found their spiritual hunger satisfied by William P. Young's #1 New York Times bestseller, The Shack--the story of a man lifted from the depths of despair through his life-altering encounter with God the Father, God the Son, and God the Holy Spirit. Now C. Baxter Kruger's THE SHACK REVISITED guides readers into a deeper understanding of these three persons to help readers have a more profound connection with the core message of The Shack--that God is love.

An early fan of The Shack and a close friend to its author, Kruger shows why the novel has been enthusiastically embraced by so many Christians worldwide. In the words of William P. Young from the foreword to THE SHACK REVISITED, "Baxter Kruger will stun readers with his unique cross of intellectual brilliance and creative genius as he takes them deeper into the wonder, worship, and possibility that is the world of The Shack."
- Publisher


Meet the Author
C Baxter Kruger
Dr. C. Baxter Kruger (PhD., Kings College, Aberdeen University under Professor James B. Torrance) is a theologian, writer and fishing lure designer, and is the Director of Perichoresis Ministries. Baxter is a native of Prentiss, Mississippi. He is the author of 7 books, The Great Dance, God is For Us, Home, The Secret, The Parable of The Dancing God, Jesus and the Undoing of Adam and Across All Worlds. He has lectured across Scotland, the United States, Canada and Australia. He is an avid outdoorsman and holds two United States patents for his fishing lure designs. He is the founder and President of Mediator Lures.