The Shape of Preaching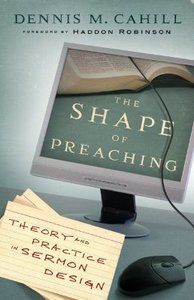 Many pastors are just too busy to fellow the latest theories on preaching and sermon form. In The Shape of Preaching, Dennis M. Cahill seeks both to educate the working pastor on the current issues of sermon design and enable them to use this design in a way that can change their preaching. After first laying the theoretical groundwork with discussions of the theological, cultural, and literary roots of the new approaches to sermon design, Cahill expertly guides the preacher through a practical process for designing sermons that speak to people in the world today.

- Publisher Do you need a new way to tell the old, old story? In The Shape of Preaching Dennis Cahill brings busy pastors up to date on new approaches to sermon theory and design, and teaches them to use new sermon forms effectively. Cahill first describes the theological, cultural, and literary roots of the various approaches to sermon design, from traditional deductive to inductive, narrative, and story forms. He then focuses on the practical process of learning to form sermons in new ways. Instructive, practical, and evangelical in focus, this valuable pastoral resource will inform and strengthen your preaching. - ?Dennis Cahill understands the literature of preaching and the whole art of sermon construction better than anyone I know. He wants us to see that every text is unique and deserves its own way of arguing for its particular truth. So, may all who are suffering from sermonic sameness let this book pry them from the dull rails of their customary sermon structures. May all of us allow Cahill, like a homiletical Einstein, to put into our preaching his simple formula by which light and matter are born anew in sermons that are fascinatingly diverse. - - - Calvin Miller, author, Preaching: The Art of Narrative Exposition - ?Dennis Cahill has the scholar - 's openness to the big questions and the working preacher - 's hunger for answers that are useful in creating engaging and faithful sermons today. - - 'Thomas G. Long, author, The Witness of Preaching - ?Dennis Cahill gives the reader a great introduction to the forms and functions of preaching as it is becoming and not as it used to be. Follow his advice and you will preach sermons that are not only clear but compelling. - - - Kenton C.Anderson, author, Choosing to Preach

- Publisher
You May Also Be Interested In
About "The Shape of Preaching"
Many pastors are just too busy to fellow the latest theories on preaching and sermon form. In The Shape of Preaching, Dennis M. Cahill seeks both to educate the working pastor on the current issues of sermon design and enable them to use this design in a way that can change their preaching. After first laying the theoretical groundwork with discussions of the theological, cultural, and literary roots of the new approaches to sermon design, Cahill expertly guides the preacher through a practical process for designing sermons that speak to people in the world today.
- Publisher

Do you need a new way to tell the old, old story? In The Shape of Preaching Dennis Cahill brings busy pastors up to date on new approaches to sermon theory and design, and teaches them to use new sermon forms effectively. Cahill first describes the theological, cultural, and literary roots of the various approaches to sermon design, from traditional deductive to inductive, narrative, and story forms. He then focuses on the practical process of learning to form sermons in new ways. Instructive, practical, and evangelical in focus, this valuable pastoral resource will inform and strengthen your preaching. - ?Dennis Cahill understands the literature of preaching and the whole art of sermon construction better than anyone I know. He wants us to see that every text is unique and deserves its own way of arguing for its particular truth. So, may all who are suffering from sermonic sameness let this book pry them from the dull rails of their customary sermon structures. May all of us allow Cahill, like a homiletical Einstein, to put into our preaching his simple formula by which light and matter are born anew in sermons that are fascinatingly diverse. - - - Calvin Miller, author, Preaching: The Art of Narrative Exposition - ?Dennis Cahill has the scholar - 's openness to the big questions and the working preacher - 's hunger for answers that are useful in creating engaging and faithful sermons today. - - 'Thomas G. Long, author, The Witness of Preaching - ?Dennis Cahill gives the reader a great introduction to the forms and functions of preaching as it is becoming and not as it used to be. Follow his advice and you will preach sermons that are not only clear but compelling. - - - Kenton C.Anderson, author, Choosing to Preach
- Publisher


Meet the Author
Dennis Cahill
Dennis M. Cahill (D.Min., Gordon-Conwell Seminary) has been in the pastorate for more than twenty years. He is the founding pastor of Christ Community Church, a Bible Fellowship Church in New Jersey, and is active in the Evangelical Homiletical Society.