The Shaping of Things to Come (And Edition)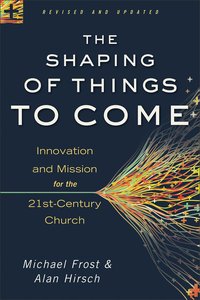 In a time when the need for and the relevance of the Gospel has seldom been greater, the relevance of the church has seldom been less. The Shaping of Things to Come explores why the church needs to rebuild itself from the bottom up. Frost and Hirsch present a clear understanding of how the church can change to face the unique challenges of the twenty-first century. This missional classic has been thoroughly revised and updated.

- Publisher
You May Also Be Interested In
About "The Shaping of Things to Come (And Edition)"
In a time when the need for and the relevance of the Gospel has seldom been greater, the relevance of the church has seldom been less. The Shaping of Things to Come explores why the church needs to rebuild itself from the bottom up. Frost and Hirsch present a clear understanding of how the church can change to face the unique challenges of the twenty-first century. This missional classic has been thoroughly revised and updated.
- Publisher


Meet the Authors
Michael Frost
Michael Frost (D.Min) is Vice-Principal and Professor of Evangelism and Missions at Morling College in Sydney, Australia - and a Baptist Minister. He is the author of Exiles: Living Missionally in a Post-Christian Culture; Jesus the Fool: The Mission of the Unconventional Christ; Seeing God in the Ordinary: A Theology of the Everyday and the co-author of The Shaping of Things to Come: Innovation and Mission for the 21st-Century Church and ReJesus: A Wild Messiah for a Missional Church.
Alan Hirsch
Alan Hirsch is founding director of Forge Mission Training Network and cofounder of Shapevine.com, an international forum for engaging with world-transforming ideas. Currently he leads an innovative learning program called Future Travelers which helps megachurches become missional movements. He is the author of numerous books, including: The Shaping of things to Come; The Forgotten Ways; The Forgotten Ways Handbook; Untamed and Right Here, Right Now. Hirsch lives in the Los Angeles area.
forthcoming info
He is currently co-writing four books to be released in 2011:
Right Here, Right Now with Lance Ford is being published through Baker Books and will provide a nuts and bolts approach to the missional lifestyle. The appeal is to the average Christian and away from Hirschs traditional leadership audience.
On the Verge with Dave Ferguson integrates the missional movement with current models of church in the West. The 2011 Exponential Conference, a conference with the theme by the same name, will utilize this book as a centerpiece to bring missional ideology to established churches.
The Permanent Revolution with Tim Catchim will be released at the 2011 Exponential Conference as well. This book elaborates on the apostolic element of mDNA by focusing on APEST, the five-fold ministry model from Ephesians 4, and its significance for the missional movement.
The Faith of Leap with Michael Frost is a book concerning a theology of risk and adventure and its implications for church, mission, leadership and spirituality.
-Editorial Review.