The Signature of Jesus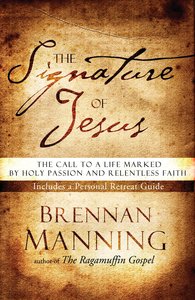 The Signature of Jesus challenges the gospel of "cheap grace" and calls the church to radical discipleship. With passion and boldness, author Brennan Manning invites readers to risk living life as Jesus lived - committed to simplicity, purity of heart, and obedience to the gospel.

As a radical alternative this book is offered to Christians who want to live by faith and not by mere "religion," for those who recognize that many of the burning theological issues in the church today are neither burning nor theological; who see Christianity neither as a moral code or a belief system but as a love affair; who have not forgotten that they are followers of a crucified Christ; who know that following him means living dangerously; who want to live the gospel without compromise; who have no greater desire than to have his signature written on the pages of their lives.

"Behold," Jesus proclaims, "I stand at the door and knock." You may have already met him at the door...but do you truly know him? Have you been transformed by His furious, passionate, unexplainable love? Join Brennan Manning, the bestselling author of The Ragamuffin Gospel.



- Publisher
You May Also Be Interested In
About "The Signature of Jesus"
The Signature of Jesus challenges the gospel of "cheap grace" and calls the church to radical discipleship. With passion and boldness, author Brennan Manning invites readers to risk living life as Jesus lived - committed to simplicity, purity of heart, and obedience to the gospel.

As a radical alternative this book is offered to Christians who want to live by faith and not by mere "religion," for those who recognize that many of the burning theological issues in the church today are neither burning nor theological; who see Christianity neither as a moral code or a belief system but as a love affair; who have not forgotten that they are followers of a crucified Christ; who know that following him means living dangerously; who want to live the gospel without compromise; who have no greater desire than to have his signature written on the pages of their lives.

"Behold," Jesus proclaims, "I stand at the door and knock." You may have already met him at the door...but do you truly know him? Have you been transformed by His furious, passionate, unexplainable love? Join Brennan Manning, the bestselling author of The Ragamuffin Gospel.


- Publisher


Meet the Author
Brennan Manning
Brennan Manning has spent the past 40 years helping others experience the reality of God's love and grace. It's at the heart of everything he's written and done. A recovering alcoholic and former Franciscan priest, his spiritual journey has taken him down a variety of paths. He has taught seminarians, spoken to packed arenas, lived in a cave and labored with the poor in Spain, and ministered to shrimpers in Alabama. He currently resides in New Orleans, Louisiana.
Brennan is best known as the author of the contemporary classics The Ragamuffin Gospel; Abba's Child; Ruthless Trust, and The Importance of Being Foolish. Most recently he has produced Patched Together and The Furious Longing of God.
Excerpt
Excerpt from: The Signature of Jesus
Chapter One
From Haran to Canaan

As Abram leaves Haran—"your country, your people and your father's house"—he embarks on a journey
he has never made to a land he never has seen. He sets out, not because he can predict the role he is to play in the history of salvation, but simply because of his personal experience, the spiritual experience of God speaking to him.
There is no program he can detail; no insight into history with which he can support his decision; no model through
which he can obtain a psychological identity. Spiritual experience has become a summons: It is God who directs.
And the future is God's.
God will, in time, show him the land.
God will have him father a nation.
Only God will make his life into a blessing for all the wretched and blundering children of this earth. What is decisive at this moment for Abram is not a vision of the next twenty years, but a quality of religious experience, a present influence of God. This touches the core of faith: to believe in a personal God who calls me and leads me. Abram obeys that call. For the time being, the call is enough. Had he demanded to know more of the details
and practicalities of the game plan, he would have demonstrated the antithesis of faith, for faith is never based on
human assurances.
In the New Testament, Zechariah, who wanted to be sure, insisted upon some divine guarantee before yielding
to God's word (see Luke 1:18). That is not faith.
The journey of the man who would become known as Abraham is a paradigm of all authentic faith. His is a movement into obscurity, into the undefined, into ambiguity, and not into some predetermined, clearly delineated plan for the future. Each future determination, each next step discloses itself only out of a discernment of the influence of God in the present moment. "By faith Abraham, when called to go to a place he would later receive as his inheritance, obeyed and went, even though he did not know where he was going" (Hebrews 11:8, italics mine). The reality of life for Christian men and women requires that they leave what is nailed down, obvious, and secure, and walk into the desert without rational explanations to justify their decisions or guarantee their future. Why? Solely and simply because God signals this movement and offers it his promise.
It is instructive to remember that prior to his encounter with the one true God, Abraham, like everyone else in his tribe and country of Haran, had held many religious beliefs. (Even an atheist has them, for not to believe in God is, in itself, a religious belief.1 ) What happened to Abraham was that he was summoned by God from these religious beliefs to faith—an enormous step.
For contemporary Christians, there is an essential difference between belief and faith. Our religious beliefs are the
visible expression of our faith, our personal commitment to the person of Jesus. However, if the Christian beliefs inherited from our family and passed on to us by our church tradition are not grounded in a shattering, life-changing
experience of Jesus as the Christ, then the chasm between our creedal statements and our faith-experience widens and our witness is worthless. The gospel will persuade no one unless it has so convicted us that we are transformed by it.
After two thousand years of church history, why is our world's population only one-third Christian? Why are the
personalities of many pious Christians so opaque? Why did Friedrich Nietzsche reproach Christians for "not looking
like they are saved"? Why do we so seldom hear in our day what the old lawyer said of John Vianney, "An extraordinary thing happened to me today: I saw Christ in a man"? Why don't our contagious joy, enthusiasm, and gratitude infect others with a longing for Christ? Why are the fire and spirit of Peter and Paul so conspicuously absent from our pallid existence?
Perhaps because so few of us have undertaken the journey of faith across the chasm between knowledge and
experience. We prefer to read the map rather than visit the place. The specter of our actual unbelief persuades us that it is not the experience that is real but, rather, our explanation of the experience. Our beliefs—which William Blake called "the mind-forged manacle"—distance us from the grip of personal experience.
Daniel Taylor writes:
The secular world of ideas plays the doubting game
almost exclusively and is usually scornful of anyone
who doesn't. Ironically, however, the church also
plays this game to a great extent. The mystery of
the gospel, the paradox of the incarnation, and the
wondrous enigma of grace are freeze-dried into a
highly rationalized and/or authoritarian system of
theologies, codes, rules, prescriptions, orders of
service, and forms of church government.
Everything is written down, everything is organized,
so that all can be certain and those in error
detected.
The movement from Haran to Canaan is the journey across the chasm. We have to pass definitively beyond
beliefs to faith. Yes, we are called to believe in Jesus. But our belief summons us to something greater, to faith in him. Faith that will force us to pursue the mind of Christ, to embrace a lifestyle of prayer, unselfishness, goodness, and involvement in building his kingdom, not our own.
When God called Abraham to abandon the security of the world familiar to him, he also asked Abraham to for-
sake his polytheistic religious beliefs. All his previous concepts of God faded away. The same process is necessary for
us. When we encounter the God revealed by and in Jesus Christ, we must revise all our previous thinking about God.
Jesus, as the revealer of the Godhead, defines God as love. In light of this revelation, we have to abandon the cankerous, worm-eaten structure of legalism, moralism, and perfectionism that corrupts the Good News into an ethical
code rather than a love affair.
Jesus lanced the infection of religious belief that had lost its soul and did not even know it. The Pharisees had distorted the image of God into some remote bookkeeper who is constantly snooping around after sinners (and one day will nail us if our accounts are not in order). The Pharisees were so busy refining and finessing the formulas of religion, so assiduous in studying what they believed, that they forgot the reality their beliefs signified. They had believed for so long but their faith had dulled. They had awaited the Messiah for so long, their expectancy was blunted.
And yet, despite Jesus' condemnation of pharisaic religion, the spirit of legalism, "like the vilest seed of the overgrown Garden, has flourished on the trellis of the centuries."3 Many Christians remain afraid, for they still
cling to an idea of God very different from that preached by Jesus. They remain in Haran with their old belief system
intact. They believe they can save themselves by holding still and not breathing or by embarking on fasts, vigils, or
heroic enterprises, hoping to coax approbation from God.
Again and again Jesus stated that fear is the enemy of life.
"Don't be afraid; just believe" (Luke 8:50).
"Do not be afraid, little flock, for your Father has been
pleased to give you the kingdom" (Luke 12:32).
"Take courage! It is I. Don't be afraid" (Matthew 14:27).
Fear breeds a deadening caution, a holding back, a stagnant waiting until people no longer can recall what they are waiting for or saving themselves for. When we fear failure more than we love life; when we are dominated by
thoughts of what we might have been rather than by thoughts of what we might become; when we are haunted
by the disparity between our ideal self and our real self; when we are tormented by guilt, shame, remorse, and selfcondemnation, we deny our faith in the God of love. God calls us to break camp, abandon the comfort and security of the status quo, and embark in perilous freedom on the journey to a new Canaan. But when we procrastinate out
of fear, this represents not only a decision to remain in Haran, but also a lack of trust.
My own faltering faith caused me to procrastinate regarding God's call to marry Roslyn. I postponed the
decision for three years (which was a decision itself ) hoping that God would grow weary of waiting and the inner
voice of Truth would get laryngitis. Before leaving the familiar landscape of the Franciscan life, I wanted God to
sketch out definite lines so that I might know explicitly where I was going. Of course, authentic faith eludes such
certainty. It means we cannot cling to anything. We always must leave something behind and not look back (see Luke
9:62). If we refuse to keep moving and insist on signs and tangible proofs, we diminish our faith, and that means
unbelief. Ironically, throughout the entire process my religious beliefs remained steadfast and unwavering.
The God of Abraham, who is the God and Father of Jesus Christ, is not a threat. The certainty that he wants us
to live, to grow, to unfold, and to experience fullness of life is the basic premise of authentic faith. Yet my reluctance to pray the prayer of abandonment of Charles de Foucauld—"Father, do with me whatever you want"—reveals that I am still in the iron grip of skepticism and fear: Letting God have at me may jeopardize my health, my reputation, and my security. He might strip me of my red suspenders and Rolex and send me off to Tanzania as a missionary. If he would just let me stay in the temple of my familiar, I would entrust myself to him wholeheartedly.
Biblical faith is an attitude acquired gradually through many crises and trials. Through the agonizing test with his
son Isaac (see Genesis 22:1–19), Abraham learns that God wants us to live and not to die, to grow and not to wither.
He knows that the God who called him to hope against hope is reliable. "Perhaps this is the essence of faith: to be
convinced of the reliability of God."