The Silent Governess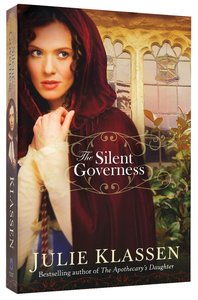 Olivia Keene is fleeing her own secret. She never intended to overhear his. But now that she has, what is Lord Bradley to do with her? He cannot let her go, for were the truth to get out, he would lose everything - his reputation, his inheritance, his very home. He gives Miss Keene little choice but to accept a post at Brightwell Court, where he can make certain she does not spread what she heard. Keeping an eye on the young woman as she cares for the children, he finds himself drawn to her, even as he struggles against the growing attraction. The clever Miss Keene is definitely hiding something. Moving, mysterious, and romantic, The Silent Governess takes readers inside the intriguing life of a 19th century governess in an English manor house where all is not as it appears.



- Publisher Believing herself guilty of a crime, Olivia Keene flees her home, eventually stumbling upon a grand estate where an elaborate celebration is in progress. But all is not as joyous as it seems.

Lord Bradley has just learned a terrible secret, which, if exposed, will change his life forever. When he glimpses a figure on the grounds, he fears a spy or thief has overheard his devastating news. He is stunned to discover the intruder is a scrap of a woman with her throat badly injured. Fearing she will spread his secret, he gives the girl a post and confines her to his estate. As Olivia and Lord Bradley's secrets catch up with them, will their hidden pasts ruin their hope of finding love?

- Publisher
You May Also Be Interested In
About "The Silent Governess"
Olivia Keene is fleeing her own secret. She never intended to overhear his. But now that she has, what is Lord Bradley to do with her? He cannot let her go, for were the truth to get out, he would lose everything - his reputation, his inheritance, his very home. He gives Miss Keene little choice but to accept a post at Brightwell Court, where he can make certain she does not spread what she heard. Keeping an eye on the young woman as she cares for the children, he finds himself drawn to her, even as he struggles against the growing attraction. The clever Miss Keene is definitely hiding something. Moving, mysterious, and romantic, The Silent Governess takes readers inside the intriguing life of a 19th century governess in an English manor house where all is not as it appears.


- Publisher

Believing herself guilty of a crime, Olivia Keene flees her home, eventually stumbling upon a grand estate where an elaborate celebration is in progress. But all is not as joyous as it seems.

Lord Bradley has just learned a terrible secret, which, if exposed, will change his life forever. When he glimpses a figure on the grounds, he fears a spy or thief has overheard his devastating news. He is stunned to discover the intruder is a scrap of a woman with her throat badly injured. Fearing she will spread his secret, he gives the girl a post and confines her to his estate. As Olivia and Lord Bradley's secrets catch up with them, will their hidden pasts ruin their hope of finding love?
- Publisher


Meet the Author
Julie Klassen
Klassen is a fiction editor with a background in advertising. Lady of Milkweed Manor is her first novel. Julie and her husband have two sons and liye in Minnesota.
Customer Reviews For "The Silent Governess"
Write Your Own Review
Intriguing
By Hannah,

Sep 02 2017
Forced into a situation she never thought she'd be in, Olivia becomes governess to two mischievous children - and part of a growing mystery which may cost her her life. I loved this book, captivated from the first page to the last as I became part of Olivia and Bradley's story and the mystery they unwittingly inherited. It was sweet, intriguing, beautiful, challenging - a story of faith, worth and family. Julie Klassen is a brilliant writer and this book is one of her best. 

---
Enchanting
By Johanna,

Aug 24 2016
I couldn't WAIT to buy this book! Never would Olivia have believed secrets to lead to finding love. That was last thing on her mind as she was trying to escape her home. She didn't need to keep someone else's for she was busy trying to keep her own! She needed to establish herself away from her past, but the further away she was going, she seemed to be getting closer to what she left behind. The interest Lord Bradley shows Olivia when she gets her voice back was the beginning of their future. He just didn't know how intently he was watching her enjoy life looking after his nieces and nephews until he discovered that's all he wanted to see; the joy on their faces. Subtle love and romance, it's there. Secrets. Everyone has them. Nobody wants to lose theirs. But are they all related? You think you know, but then you don't. 
---
Fabulous book
By Laura,

Jun 13 2015
Julie Klassen blends mystery, romance and secrets into one captivating novel. Rich with Regency charm and eloquent dialogue,The Silent Governess is a book you're sure to enjoy!!!
---
Enjoyable
By Susan,

Dec 20 2014
I had never read anything by this author before, so was a little unsure to begin with. The story was in many places quite predictable and I found it slightly contrived, but there were unexpected twists and it was a reasonable plotline. Although this isn't a book I would read over and over again, it was a light, enjoyable read.
---
Fantastic Fiction
By Shei,

Dec 09 2014
Easy read to come home to at the end of a hard working day. Parts of the plot are very predictable, but there are several enjoyable twists that kept my attention for the entire read. Good value for dollar. Characters are easy to relate to and personally I adored the personality quirks the author added in for the children. 
{{review.title}}
By {{review.author.name}},

{{review.reviewCreatedDate | date:'MMM dd yyyy'}}

{{reviewdescription}}
{{review.text}}
---