The Solitary Man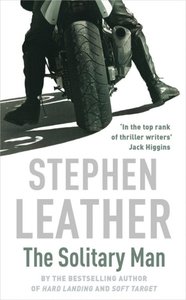 Imprisoned for a crime he did not commit, Chris Hutchinson breaks free from a British maximum security prison and escapes to Hong Kong. Linked to a vicious drugs warlord, he flees to the killing fields of the Golden Triangle.

- Publisher Imprisoned for a crime he didn't commit, Chris Hutchison escapes from a British maximum security prison and starts a new life in Hong Kong. Then a ghost from his past catches up with him, forcing him to help a former terrorist break out of a Bangkok prison or face life behind bars once more.

- Publisher
You May Also Be Interested In
About "The Solitary Man"
Imprisoned for a crime he did not commit, Chris Hutchinson breaks free from a British maximum security prison and escapes to Hong Kong. Linked to a vicious drugs warlord, he flees to the killing fields of the Golden Triangle.
- Publisher

Imprisoned for a crime he didn't commit, Chris Hutchison escapes from a British maximum security prison and starts a new life in Hong Kong. Then a ghost from his past catches up with him, forcing him to help a former terrorist break out of a Bangkok prison or face life behind bars once more.
- Publisher


Meet the Author
Stephen Leather
Stephen Leather is one of the UK's most successful thriller writers and a top ebook bestselling author. Before becoming a novelist he was a journalist for more than ten years on newspapers such asThe Times, theDaily Mailand theSouth China Morning Postin Hong Kong. Before that, he was employed as a biochemist for ICI, shoveled limestone in a quarry, worked as a baker, a petrol pump attendant, a barman, and worked for the Inland Revenue. He began writing full time in 1992. His bestsellers have been translated into more than ten languages. He has also written for television shows such asLondon's Burning, The Knockand the BBC'sMurder in Mindseries and two of his books,The StretchandThe Bombmaker, were filmed for TV. You can find out more from Stephen's website, www.stephenleather.com and his blog, www.stephenleather.blogspot.co.uk, and follow him on Twitter at twitter.com/stephenleather. Stephen also has a website for his Jack Nightingale series, www.jacknightingale.com.