The Song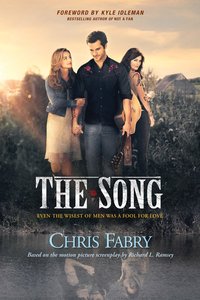 Jed King's life has been shaped by the songs and mistakes of his famous father. He wants to sing his own song, but the words and melody are elusive. Haunted by the scars inflicted by his broken family, Jed's dreams of a successful music career seem out of reach ... until he meets Rose.

As romance quickly blooms, Jed pens a new song and suddenly finds himself catapulted into stardom. But with this life of fame comes temptation, the same temptation that lured his father so many years ago.

Set in the fertile mid-South, this quest for success leads Jed and Rose on a journey that will force them to deal with the pain of loss, failure, and the desire to be who God created them to be.

Lyrical and deeply honest, The Song asks the hard questions of love and forgiveness. When even the wisest of men are fools in love, can true love persevere?

- Publisher
You May Also Be Interested In
About "The Song"
Jed King's life has been shaped by the songs and mistakes of his famous father. He wants to sing his own song, but the words and melody are elusive. Haunted by the scars inflicted by his broken family, Jed's dreams of a successful music career seem out of reach ... until he meets Rose.

As romance quickly blooms, Jed pens a new song and suddenly finds himself catapulted into stardom. But with this life of fame comes temptation, the same temptation that lured his father so many years ago.

Set in the fertile mid-South, this quest for success leads Jed and Rose on a journey that will force them to deal with the pain of loss, failure, and the desire to be who God created them to be.

Lyrical and deeply honest, The Song asks the hard questions of love and forgiveness. When even the wisest of men are fools in love, can true love persevere?
- Publisher


Meet the Authors
Chris Fabry
Chris Fabry is a 1982 graduate of the W. Page Pitt School of Journalism at Marshall University. He is heard on Chris Fabry Live! each weekday on Moody Radio, the Love Worth Finding broadcast, and other radio programs. You may have also heard Chris cohosting programs for Focus on the Family radio. He and his wife, Andrea, live in Colorado and are the parents of nine children.
Chris recently released his first adult novel entitled Dogwood, which is set in his native state of West Virginia. He has published more than 60 other books, including many novels for children and young adults. He co-authored the Left Behind: The Kids series with Jerry B. Jenkins and Tim LaHaye, as well as the Red Rock Mysteries and the Wormling series with Jerry B. Jenkins. RPM is his latest series for kids and explores the exciting world of NASCAR. Visit his Web site at www.chrisfabry.com.
Kyle Idleman
Kyle Idleman is the Teaching Pastor at Southeast Christian Church in Louisville, Kentucky, the 5th largest church in America. He is the author and presenter of the Award-winning video curriculum series H2O: A Journey of Faith and The Easter Experience. Kyle and his wife, DesiRae, have four young children.