The Soul of An American President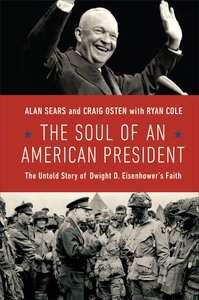 While there have been many biographies of Dwight D. Eisenhower that focus on his military career or the time of his presidency, none clearly explores the important role faith played both in his personal life and in his public policy. This despite the fact that he is the only US president to be baptized as a Christian while in office.

Alan Sears and Craig Osten invite you on a journey that is unique in American history and is essential to understanding one of the most consequential, admired, and complex Americans of the 20th Century. The story begins in abject poverty in rural Texas, then travels through Kansas, West Point, two World Wars, and down Pennsylvania Avenue. This is the untold story of a man whose growing faith sustained him through the loss of a young son, marital difficulties, depression, career disappointments, and being witness to some of the worst atrocities humankind has devised. A man whose faith was based in his own sincere personal conviction, not out of a sense of political expediency or social obligation.

You've met Dwight Eisenhower the soldier and Dwight Eisenhower the president. Now meet Dwight Eisenhower the man of faith.

- Publisher
You May Also Be Interested In
About "The Soul of An American President"
While there have been many biographies of Dwight D. Eisenhower that focus on his military career or the time of his presidency, none clearly explores the important role faith played both in his personal life and in his public policy. This despite the fact that he is the only US president to be baptized as a Christian while in office.

Alan Sears and Craig Osten invite you on a journey that is unique in American history and is essential to understanding one of the most consequential, admired, and complex Americans of the 20th Century. The story begins in abject poverty in rural Texas, then travels through Kansas, West Point, two World Wars, and down Pennsylvania Avenue. This is the untold story of a man whose growing faith sustained him through the loss of a young son, marital difficulties, depression, career disappointments, and being witness to some of the worst atrocities humankind has devised. A man whose faith was based in his own sincere personal conviction, not out of a sense of political expediency or social obligation.

You've met Dwight Eisenhower the soldier and Dwight Eisenhower the president. Now meet Dwight Eisenhower the man of faith.
- Publisher


Meet the Authors
Alan Sears
Alan Sears is a Professor of Sociology at Ryerson University in Toronto. He is the author of "Retooling the Mind Factory: Education in a Lean State" (Garamond Press/UTP, 2003) and various articles on teaching and learning in higher education.
Craig Osten
Craig is the national director of Team Communications for the Alliance Defense Fund.
Ryan Cole
Ryan Cole holds degrees in history and journalism from Indiana University and has written extensively about American history and literature for the Wall Street Journal, National Review, the Weekly Standard, the New Criterion, Civil War Times, the Washington Times, the American Interest, and the Indianapolis Star.