The Spirit of Python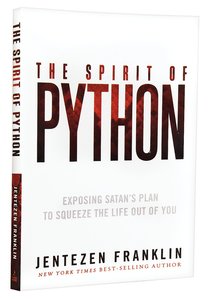 : If it feels like your dreams and passions are suffocating and you don't know why, you might be dealing with the spirit of python. In the natural world pythons have an interesting way of killing their prey. They constrict it until it can no longer breathe, literally suffocating the life out of its veins. In the spirit realm the python spirit acts in the same manner. It comes to put limits on you. It comes to quiet your voice and kill your dreams. It creeps into your life and, slowly but surely, suffocates your zeal for praising and worshiping God.New York Times best-selling author Jentezen Franklin is back with a message that will inspire you to break free and reclaim a life of passion, purpose, and praise. Based on some of his best-selling ministry products, The Spirit of Python helps you understand the strategies of this subtle destroyer, how it works, how to detect it, and how to break its hold from your life.

- Publisher
You May Also Be Interested In
About "The Spirit of Python"
: If it feels like your dreams and passions are suffocating and you don't know why, you might be dealing with the spirit of python. In the natural world pythons have an interesting way of killing their prey. They constrict it until it can no longer breathe, literally suffocating the life out of its veins. In the spirit realm the python spirit acts in the same manner. It comes to put limits on you. It comes to quiet your voice and kill your dreams. It creeps into your life and, slowly but surely, suffocates your zeal for praising and worshiping God.New York Times best-selling author Jentezen Franklin is back with a message that will inspire you to break free and reclaim a life of passion, purpose, and praise. Based on some of his best-selling ministry products, The Spirit of Python helps you understand the strategies of this subtle destroyer, how it works, how to detect it, and how to break its hold from your life.
- Publisher


Meet the Author
Jentezen Franklin
Jentezen Franklin is the Senior Pastor of Free Chapel, a multi-campus church. Each week his television program Kingdom Connection is broadcast on major networks all over the world. A New York Times best-selling author, Jentezen has written eight books including the groundbreaking Fasting and Right People, Right Place, Right Plan. Having a passion to serve others and foster unity, he was awarded the Martin Luther King Jr. Mantle of Destiny Award for his work and efforts for racial reconciliation. Jentezen has served as an advisor to CEOs and business leaders of multiple organizations and is listed among notable alumni at Barton College in Wilson, North Carolina. Additionally, he has served on an advisory board to the President of the United States. Jentezen and his wife Cherise have been married thirty years, have five children and two grandchildren, and make their home in Gainesville, Georgia.

Media
Customer Reviews For "The Spirit of Python"
Write Your Own Review
Great read
By Krystle Fog,

Jun 30 2018
This book Is a must read for any Christian in helping to deal with the enemy! 
I read this book in two days- couldn't put it down!! 
---
Highly recommended
By Michelle75,

Apr 01 2018
I couldn't put this book down.  Very engaging and informative yet so easy to read. This book will help you recognise spiritual oppression and gives you great practical tips for God's deliverance and restoration in your life. I would recommend this book for all ages and I would especially like to see younger adults read it as there is a wealth of knowledge in this book. Highly recommended. 
---
A book to be read today!
By Donna,

Jan 31 2017
I could not put this book down.  It describes in detail how to stand against satan's schemes and tactics and be an overcomer.  I feel this book is so relevant for today.  WE need to be aware of how the adversary works in the lives of christians so we can stand, and having done all STAND.
---
I was being suffocated and didn't know it
By Viv,

Jul 18 2016
I wondered what was wrong for such a long time and then was led to this book by a friend. I recognised within the first few chapters what had been happening in my walk....the Spirit of Python had a hold and was slowly suffocating the spiritual life out of me.
This book showed me the problem AND the solution and thankfully I am now free!
All Christians need to read this book.
{{review.title}}
By {{review.author.name}},

{{review.reviewCreatedDate | date:'MMM dd yyyy'}}

{{reviewdescription}}
{{review.text}}
---