The Spiritual Danger of Doing Good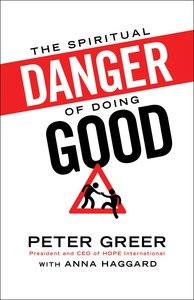 Charity and Service Have a Dark Side

You want to live out the Gospel by serving others, and you're willing to sacrifice your time, money, and perhaps even your safety. But do you realize the spiritual dangers you face as you serve? Peter Greer, the CEO of a Christian nonprofit, found that serving others and seeking justice actually did him harm. He shares how something that started with the noblest of intentions got off track--and how he got back on course. His story is a compassionate warning for anyone who works in ministry or charitable nonprofits, from CEOs to weekend volunteers.

"Doing good can take its toll on our lives if we aren't careful. The Spiritual Danger of Doing Good is an honest look at the dangers we all need to avoid as we seek to make a difference."--Craig Groeschel, senior pastor, LifeChurch.tv

"Peter Greer is a friend and a brother. His newest book is a brilliant reminder that what we do is not nearly as important as who we are--and how much we give is not nearly as important as how much love is in the giving."--Shane Claiborne, author, activist, and lover of Jesus

"In this extremely timely and important book, Peter Greer applies the apostle Paul's teaching to the twenty-first century leader. Readable, humorous, and keenly insightful."--Brian Fikkert, author of When Helping Hurts

"This book is a needed message for all leaders interested in social justice, ministry, or simply loving their neighbors as themselves. It is timely and welcomed. So get ready for a challenge. Peter is a thought leader who is changing the world. Read this book!"--Brad Lomenick, president and lead visionary, Catalyst

"If you're ready to take an honest look at your leadership then read this work with a continual prayer on your lips: 'Lord, show me how this might be true in my life.' Too often Christian leaders gloss over these issues at their own peril. Read it, take heed, and become liberated from the hero who must die in order to live--you."--Dr. Scott C. Todd, senior vice president, Compassion International

"Anchored in personal, gut-honest experience, The Spiritual Danger of Doing Good is a clarion call to all of us. Peter and Anna discuss how to change the world without sacrificing what is most important. I deeply resonate with the principles found in this book.."--Stephan Bauman, president and CEO, World Relief

"Peter has nailed it. He has uncovered unique signs and situations we overlook as leaders that cause serious harm to ourselves and to others--particularly those we love most. Want to be a great leader? This is a must read."--David Spickard, president & CEO, Jobs for Life

" Peter helps us in practical ways to serve Jesus with a pure heart, pure love and no applause necessary. I believe this book will get you in your gut and you'll be forever changed."--Anne Beiler, founder of Auntie Anne's, Inc.

"I wish I could have read The Spiritual Danger of Doing Good as a young pastor. My idealism has often been my greatest strength and my most catastrophic weakness. Peter understands this, and his stories and insights would have saved me from heartache and major mistakes.."--Chris Seay, pastor, Ecclesia Houston

"Provides a powerful wake-up call for Christians. The discussion questions and suggested videos on a variety of topics make this excellent for group studies. The Spiritual Danger of Doing Good should be required reading for all Christians whether they are involved in overseas missions or work in their own neighborhoods."--Congregational Libraries Today

"Greer outlines many of the dangers that go along with serving others, including an inflated ego, a judgmental heart, and serving the poor at the neglect of one's spouse and family. He offers insight and points readers to the God who asks us to love others, and to do it with a heart that is open to Him. This book is a great resource for anyone who serves others, whether as a pastor, nonprofit leader or volunteer at the local food bank."--Youthworker Journal

- Publisher
You May Also Be Interested In
About "The Spiritual Danger of Doing Good"
Charity and Service Have a Dark Side

You want to live out the Gospel by serving others, and you're willing to sacrifice your time, money, and perhaps even your safety. But do you realize the spiritual dangers you face as you serve? Peter Greer, the CEO of a Christian nonprofit, found that serving others and seeking justice actually did him harm. He shares how something that started with the noblest of intentions got off track--and how he got back on course. His story is a compassionate warning for anyone who works in ministry or charitable nonprofits, from CEOs to weekend volunteers.

"Doing good can take its toll on our lives if we aren't careful. The Spiritual Danger of Doing Good is an honest look at the dangers we all need to avoid as we seek to make a difference."--Craig Groeschel, senior pastor, LifeChurch.tv

"Peter Greer is a friend and a brother. His newest book is a brilliant reminder that what we do is not nearly as important as who we are--and how much we give is not nearly as important as how much love is in the giving."--Shane Claiborne, author, activist, and lover of Jesus

"In this extremely timely and important book, Peter Greer applies the apostle Paul's teaching to the twenty-first century leader. Readable, humorous, and keenly insightful."--Brian Fikkert, author of When Helping Hurts

"This book is a needed message for all leaders interested in social justice, ministry, or simply loving their neighbors as themselves. It is timely and welcomed. So get ready for a challenge. Peter is a thought leader who is changing the world. Read this book!"--Brad Lomenick, president and lead visionary, Catalyst

"If you're ready to take an honest look at your leadership then read this work with a continual prayer on your lips: 'Lord, show me how this might be true in my life.' Too often Christian leaders gloss over these issues at their own peril. Read it, take heed, and become liberated from the hero who must die in order to live--you."--Dr. Scott C. Todd, senior vice president, Compassion International

"Anchored in personal, gut-honest experience, The Spiritual Danger of Doing Good is a clarion call to all of us. Peter and Anna discuss how to change the world without sacrificing what is most important. I deeply resonate with the principles found in this book.."--Stephan Bauman, president and CEO, World Relief

"Peter has nailed it. He has uncovered unique signs and situations we overlook as leaders that cause serious harm to ourselves and to others--particularly those we love most. Want to be a great leader? This is a must read."--David Spickard, president & CEO, Jobs for Life

" Peter helps us in practical ways to serve Jesus with a pure heart, pure love and no applause necessary. I believe this book will get you in your gut and you'll be forever changed."--Anne Beiler, founder of Auntie Anne's, Inc.

"I wish I could have read The Spiritual Danger of Doing Good as a young pastor. My idealism has often been my greatest strength and my most catastrophic weakness. Peter understands this, and his stories and insights would have saved me from heartache and major mistakes.."--Chris Seay, pastor, Ecclesia Houston

"Provides a powerful wake-up call for Christians. The discussion questions and suggested videos on a variety of topics make this excellent for group studies. The Spiritual Danger of Doing Good should be required reading for all Christians whether they are involved in overseas missions or work in their own neighborhoods."--Congregational Libraries Today

"Greer outlines many of the dangers that go along with serving others, including an inflated ego, a judgmental heart, and serving the poor at the neglect of one's spouse and family. He offers insight and points readers to the God who asks us to love others, and to do it with a heart that is open to Him. This book is a great resource for anyone who serves others, whether as a pastor, nonprofit leader or volunteer at the local food bank."--Youthworker Journal
- Publisher


Meet the Authors
Peter Greer
Peter Greer, who holds an M.P.P. from Harvards Kennedy School and a B.S. from Messiah College, is the president of HOPE International, a global faith-based microfinance organization serving over 220,000 entrepreneurs in 14 countries. A frequent lecturer and a featured panelist at Harvards International Development Conference, Peter and his wife, Laurel, live in Lancaster, PA, with their two children. He is the author The Poor Will Be Glad: Joining the Revolution to Lift the World Out of Poverty.
Anna Haggard
Anna Haggard is the executive writing assistant at HOPE International, where she collaborates with the president and the marketing department to share HOPE's message to donors through print and social media. Anna is a graduate of Asbury University and lives in Lancaster, Pennsylvania. A