The Spirituality of Jane Austen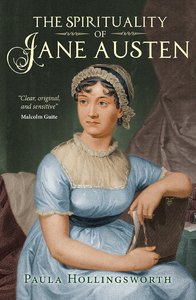 2017 marks the 200th anniversary of the death of Jane Austen, whose six completed novels have never been out of print. Best known for her novels, 'Sense and Sensibility', 'Pride and Prejudice', 'Mansfield Park', and 'Emma', first published anonymously, Jane commented, critiqued and illuminated the life of the English upper classes. But did Jane's writings highlight anything about her own spirituality? In this celebratory book, Paula Hollingsworth explores Jane Austen's gentle but strong faith and the effect it had both on her life and her writing. Drawing on Jane's life story, her letters, her friendships, her books and the characters portrayed, Paula shows the depth of Jane Austen's spirituality.

- Publisher
You May Also Be Interested In
About "The Spirituality of Jane Austen"
2017 marks the 200th anniversary of the death of Jane Austen, whose six completed novels have never been out of print. Best known for her novels, 'Sense and Sensibility', 'Pride and Prejudice', 'Mansfield Park', and 'Emma', first published anonymously, Jane commented, critiqued and illuminated the life of the English upper classes. But did Jane's writings highlight anything about her own spirituality? In this celebratory book, Paula Hollingsworth explores Jane Austen's gentle but strong faith and the effect it had both on her life and her writing. Drawing on Jane's life story, her letters, her friendships, her books and the characters portrayed, Paula shows the depth of Jane Austen's spirituality.
- Publisher


Meet the Author
Paula Hollingsworth
Paula Hollingsworth is a parish priest with a background in English literature, maths and science. She has been fascinated by Jane Austen for some time, and wrote her thesis on Jane Austen's spirituality as part of her studies at Sarum College for her MA. She is a frequent speaker on English literature. This is her first book.