The Steps to Freedom in Christ (Study Guide) (Freedom In Christ (Usa) Series)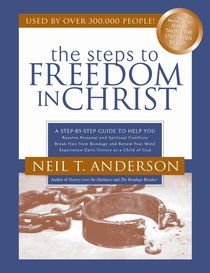 Time-Tested Steps That Will Lead You to Freedom in Christ!

The victory that Christ promises us is complete. He has promised that knowing the truth will set us free. The Steps to Freedom in Christ is a comprehensive process that will help you resolve your personal and spiritual conflicts in Christ.

If you have received Christ as your personal Savior, He has set you free. You will still have conflicts in your life, but you can overcome them because of your position in Christ as a child of God.

Experience daily victory over sin and doubt with this next generation of The Steps to Freedom in Christ. It will help you reclaim the promise of freedom that Christ offers to all who call on His name. The Steps to Freedom in Christ includes a spiritual inventory to help you identify and break free from--

· Condemning thoughts
· Compulsive behaviors
· Personal conflicts
· Spiritual struggle and despair
· Any type of personal or spiritual bondage

- Publisher
You May Also Be Interested In
About "The Steps to Freedom in Christ (Study Guide) (Freedom In Christ (Usa) Series)"
Time-Tested Steps That Will Lead You to Freedom in Christ!

The victory that Christ promises us is complete. He has promised that knowing the truth will set us free. The Steps to Freedom in Christ is a comprehensive process that will help you resolve your personal and spiritual conflicts in Christ.

If you have received Christ as your personal Savior, He has set you free. You will still have conflicts in your life, but you can overcome them because of your position in Christ as a child of God.

Experience daily victory over sin and doubt with this next generation of The Steps to Freedom in Christ. It will help you reclaim the promise of freedom that Christ offers to all who call on His name. The Steps to Freedom in Christ includes a spiritual inventory to help you identify and break free from--

· Condemning thoughts
· Compulsive behaviors
· Personal conflicts
· Spiritual struggle and despair
· Any type of personal or spiritual bondage
- Publisher


Meet the Author
Neil T Anderson
Dr. Neil T. Anderson is founder and president of Freedom in Christ Ministries, and was formerly chairman of the Practical Theology Department at Talbot School of Theology at Biola University. He holds five degrees from Talbot, Pepperdine University and Arizona State University, and worked as an aerospace engineer before entering the ministry. He has 20 years of experience as a pastor and has written several bestselling books on spiritual freedom, including Victory Over the Darkness, The Bondage Breaker, Finding Hope Again and Freedom from Addiction. - Publisher.
Other Titles In The "Freedom In Christ (Usa)" Series