The Story of Jesus in History and Faith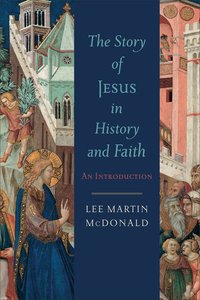 Many books are available on the historical Jesus, but few address issues that are critically central to Christian faith--namely Jesus as resurrected Lord, Christ, and Son of God. This comprehensive introduction to the study of the historical Jesus takes both scholarship and Christian faith seriously.

Leading New Testament scholar Lee Martin McDonald brings together two critically important dimensions of the story of Jesus: what we can know about him in his historical context and what we can responsibly claim about his significance for faith today. McDonald examines the most important aspects of the story of Jesus from his birth to his resurrection and introduces key issues and approaches in the study of the historical Jesus. He also considers faith issues, taking account of theological perspectives that secular historiography cannot address. The book incorporates excerpts from primary sources and includes a map and tables.

- Publisher
You May Also Be Interested In
About "The Story of Jesus in History and Faith"
Many books are available on the historical Jesus, but few address issues that are critically central to Christian faith--namely Jesus as resurrected Lord, Christ, and Son of God. This comprehensive introduction to the study of the historical Jesus takes both scholarship and Christian faith seriously.

Leading New Testament scholar Lee Martin McDonald brings together two critically important dimensions of the story of Jesus: what we can know about him in his historical context and what we can responsibly claim about his significance for faith today. McDonald examines the most important aspects of the story of Jesus from his birth to his resurrection and introduces key issues and approaches in the study of the historical Jesus. He also considers faith issues, taking account of theological perspectives that secular historiography cannot address. The book incorporates excerpts from primary sources and includes a map and tables.
- Publisher


Meet the Author
Lee Martin Mcdonald
McDonald is principal and dean of theology at Acadia Divinity College, Wolfville, Nova Scotia.
Table Of Contents
contents

introduction
part 1: History And The Historical Jesus
1. History And The Historical Jesus
part 2: Sources For Studying The Historical Jesus
2. The Gospels: Relationships And Reliability + Q
3. Other Sources For Studying The Historical Jesus
part 3: The Story Of Jesus In History (events And Teachings)
4. The Story Of Jesus In History: From Birth To His Scriptures
5. The Story Of Jesus In History: Transfiguration To Burial
6. Easter: The Story Of Jesus Beyond History
7. Conclusion: Jesus In History And Faith
indexes