The Swindoll Study Bible NLT (Black Letter Edition)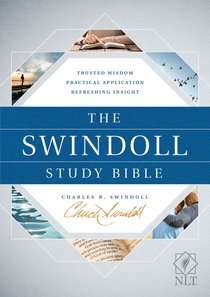 Features
Black Lettering
Concordance
Footnotes/commentary
Maps & Charts
Topical Index
You May Also Be Interested In
About "The Swindoll Study Bible NLT (Black Letter Edition)"
Winner of the 2018 Christian Book Award for Bible of the Year.
The Swindoll Study Bible offers the best of Chuck Swindoll's wit, charm, pastoral insight, and wise biblical study directly to you as you study God's Word. Chuck's warm, personal style comes across on every page, and his informed, practical insights get straight to the heart of the Bible's message for the world today. Reading each part of this study Bible is like hearing Chuck speak God's Word directly to your heart. It will both encourage readers' faith and draw them deeper into the study of God's Word.

In Chuck's own words: "This study Bible was designed with you in mind. As you read the Scriptures, imagine my sitting beside you and sharing personal stories, important insights, and hard-earned lessons that will encourage you to walk more closely with Jesus Christ. You'll discover the who, what, where, when, why, and how of the Bible: Who wrote it and when? What does it mean, and where did its events occur? Why should I trust it? And most importantly, how can I apply it today?

"It's that last question more than any other that has fed my passion to publish this Bible. My primary focus in ministry has been teaching biblical insight for living ... for genuine life change. After all, that's why God has communicated His Word to us-so that we may become like His Son, Jesus Christ, the central figure of this Book."
- Publisher


Meet the Author
Charles Swindoll
Charles R. Swindoll is senior pastor of Stonebriar Community Church, Frisco, Texas, and host of a leading program in Christian broadcasting, Insight for Living which airs in major Christian and non-Christian radio markets throughout the world and to a growing web-cast audience.
Chuck's extensive writing ministry has also served the body of Christ worldwide, He has written more than thirty best-selling books, such as Strengthening Your Grip; Laugh Again, and the Great Lives series, including Paul: A Man of Grace and Grit.
His leadership as president and now chancellor of Dallas Theological Seminary has helped prepare and equip a new generation for ministry. Chuck and Cynthia, his partner in life and ministry, have four grown children and ten grandchildren.
-Publisher.