The Tech-Wise Family: Everyday Steps For Putting Technology in Its Proper Place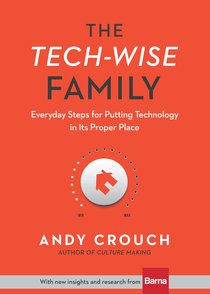 Making conscientious choices about technology in our families is more than just using internet filters and determining screen time limits for our children. It's about developing wisdom, character, and courage in the way we use digital media rather than accepting technology's promises of ease, instant gratification, and the world's knowledge at our fingertips. And it's definitely not just about the kids.

Drawing on in-depth original research from the Barna Group, Andy Crouch shows readers that the choices we make about technology have consequences we may never have considered. He takes readers beyond the typical questions of what, where, and when and instead challenges them to answer provocative questions like, Who do we want to be as a family? and How does our use of a particular technology move us closer or farther away from that goal? Anyone who has felt their family relationships suffer or their time slip away amid technology's distractions will find in this book a path forward to reclaiming their real life in a world of devices.

- Publisher
You May Also Be Interested In
About "The Tech-Wise Family: Everyday Steps For Putting Technology in Its Proper Place"
Making conscientious choices about technology in our families is more than just using internet filters and determining screen time limits for our children. It's about developing wisdom, character, and courage in the way we use digital media rather than accepting technology's promises of ease, instant gratification, and the world's knowledge at our fingertips. And it's definitely not just about the kids.

Drawing on in-depth original research from the Barna Group, Andy Crouch shows readers that the choices we make about technology have consequences we may never have considered. He takes readers beyond the typical questions of what, where, and when and instead challenges them to answer provocative questions like, Who do we want to be as a family? and How does our use of a particular technology move us closer or farther away from that goal? Anyone who has felt their family relationships suffer or their time slip away amid technology's distractions will find in this book a path forward to reclaiming their real life in a world of devices.
- Publisher


Meet the Author
Andy Crouch
Andy Crouch (M.Div., Boston University School of Theology) is editorial director of the Christian Vision Project at Christianity Today International. He served as executive producer for the documentary films Where Faith and Culture Meet and Round Trip. He also sits on the editorial board for Books & Culture and has been a columnist for Christianity Today.
His writing has appeared in several editions of The Best Christian Writing and The Best Spiritual Writing. He was editor-in-chief of re:generation quarterly and for ten years served as a campus minister with InterVarsity Christian Fellowship at Harvard University. He is the author of Culture Making:Recovering Our Creative Calling ,a coauthor of The Church in Emerging Culture and a contributor to the Worship Team Handbook.
A classically trained musician who draws on pop, folk, rock, jazz and gospel, Crouch has also led musical worship for congregations of 5 to 20,000.