The Theology of Augustine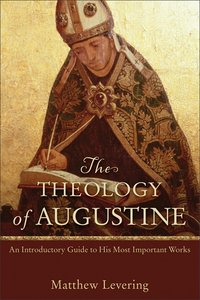 Most theology students realize Augustine is tremendously influential on the Christian tradition as a whole, but they generally lack real knowledge of his writings. This volume introduces Augustine's theology through seven of his most important works. Matthew Levering begins with a discussion of Augustine's life and times and then provides a full survey of the argument of each work with bibliographical references for those who wish to go further. Written in clear, accessible language, this book offers an essential introduction to major works of Augustine that all students of theology--and their professors!--need to know.

- Publisher
You May Also Be Interested In
About "The Theology of Augustine"
Most theology students realize Augustine is tremendously influential on the Christian tradition as a whole, but they generally lack real knowledge of his writings. This volume introduces Augustine's theology through seven of his most important works. Matthew Levering begins with a discussion of Augustine's life and times and then provides a full survey of the argument of each work with bibliographical references for those who wish to go further. Written in clear, accessible language, this book offers an essential introduction to major works of Augustine that all students of theology--and their professors!--need to know.
- Publisher


Meet the Author
Matthew Levering
Matthew Levering(Ph.D., Boston College) is Professor of Theology at the University of Dayton, USA. He has most recently authored Biblical Natural Law (Oxford; Participatory Biblical Exegesis (Notre Dame); Ezra and Nehemiah (Broazoz Theological Commentary, Brazos) and Doing Theology: Catholic Theology (T & T Clark, 2012).


He also co-edited Vatican II: Tradition within Renewal (Oxford), and is preparing the Oxford Handbook on the Trinity. He has written and edited numerous other books. He currently co-edits series on Classical Christianity (Brazos) and Reading the Scriptures (Notre Dame), and serves as co-editor of the quarterly journal Nova et Vetera.
Table Of Contents
Introduction
1. on Christian Doctrine
2. answer To Faustus, A Manichean
3. homilies On The First Epistle Of John
4. on The Predestination Of The Saints
5. confessions
6. city Of God
7. on The Trinity
conclusion
for Further Reading
indexes