The Theology of the Book of Isaiah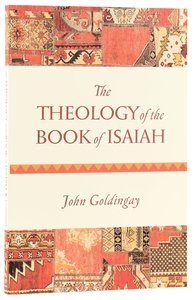 Yahweh sits enthroned, high and lifted upA shoot grows from the stump of JesseA Servant pours himself out to deathKings and nations stream to ZionThe book of Isaiah's imagery sparkles as it inspires. It draws us in to meditate and extend our vision along its vectors. But what should we make of this sprawling and puzzling book--so layered and complex in its composition--as a whole?John Goldingay helps us make sense of this "book called Isaiah" as a tapestry of patterned collages. Then, stepping back, he unfurls its unifying themes--from Zion to David to the Holy One of Israel. Like a program guide to Handel's Messiah, Goldingay helps us see, hear and understand the grandeur of this prophetic masterpiece among the Prophets.

- Publisher
You May Also Be Interested In
About "The Theology of the Book of Isaiah"
Yahweh sits enthroned, high and lifted upA shoot grows from the stump of JesseA Servant pours himself out to deathKings and nations stream to ZionThe book of Isaiah's imagery sparkles as it inspires. It draws us in to meditate and extend our vision along its vectors. But what should we make of this sprawling and puzzling book--so layered and complex in its composition--as a whole?John Goldingay helps us make sense of this "book called Isaiah" as a tapestry of patterned collages. Then, stepping back, he unfurls its unifying themes--from Zion to David to the Holy One of Israel. Like a program guide to Handel's Messiah, Goldingay helps us see, hear and understand the grandeur of this prophetic masterpiece among the Prophets.
- Publisher


Meet the Author
John Goldingay
John Goldingay (Ph.D., University of Nottingham) is David Allan Hubbard Professor of Old Testament at Fuller Theological Seminary in Pasadena, California. His books include Models for Scripture; Models for Interpretation of Scripture; Walk On; and commentaries on Psalms (Baker Commentary on the Old Testament Wisdom and Psalms - 3 volumes); Isaiah (New International Bible Commentary); Daniel (Word Biblical Commentary); The Message of Isaiah 40-55: A Literary-Theological Commentary; and with David Payne, Isaiah 40-66 (International Critical Commentary - 2 volumes), and the recently completed Old Testament Theology(three volumes from InterVarsity Press). His major project is now to complete the series Old Testament for Everyone Bible commentary series
Koorong - Editorial Review.
Table Of Contents
:acknowledgments

Introduction

Part One: The Theologies In Isaiah

1 Isaiah 1-12

2 Isaiah 13-27

3 Isaiah 28-39

4 Isaiah 40-55

5 Isaiah 56-66

Part Two: The Theology That Emerges From Isaiah

6 Revelation

7 The God Of Israel As The Holy One, Yahweh Armies

8 Holy As Upright And Merciful

9 Israel And Judah

10 Jerusalem And Zion Critiqued And Threatened

11 Jerusalem And Zion Chastised And Restored

12 The Remains

13 The Nations

14 The Empires And Their Kings

15 Divine Sovereignty And Human Responsibility

16 Divine Planning And Human Planning

17 David

18 Yahweh's Day