The Theology of the Levitical Priesthood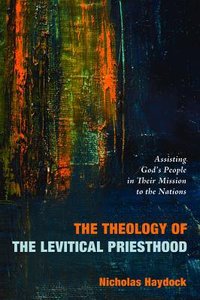 In this book, Nicholas Haydock explores the biblical presentation of the Levitical priesthood, drawing out themes that run throughout Scripture and reveal God's intention for the priesthood. It is successfully argued that this intention cannot be divorced from God's desire to reveal himself to the nations. This hypothesis is shown to be true in examining the various functions and metaphors ascribed to the Levites. Whereas in much of Old Testament criticism, the Levitical priesthood has been painted in a light contrary to the biblical depiction, The Theology of the Levitical Priesthood takes the canonical presentation of the Levites at face value. It is the author's conviction that in attending to the biblical presentation of the Levites, the Church will be aided and better equipped to apply herself to Scripture and to participate within God's mission, in the present day.

- Publisher
You May Also Be Interested In
About "The Theology of the Levitical Priesthood"
In this book, Nicholas Haydock explores the biblical presentation of the Levitical priesthood, drawing out themes that run throughout Scripture and reveal God's intention for the priesthood. It is successfully argued that this intention cannot be divorced from God's desire to reveal himself to the nations. This hypothesis is shown to be true in examining the various functions and metaphors ascribed to the Levites. Whereas in much of Old Testament criticism, the Levitical priesthood has been painted in a light contrary to the biblical depiction, The Theology of the Levitical Priesthood takes the canonical presentation of the Levites at face value. It is the author's conviction that in attending to the biblical presentation of the Levites, the Church will be aided and better equipped to apply herself to Scripture and to participate within God's mission, in the present day.
- Publisher


Meet the Author
Nicholas Haydock
Nicholas Haydock is currently a PhD student in Old Testament Theology and has been serving in Europe with the International Fellowship of Evangelical Students.