The Theory of Happily Ever After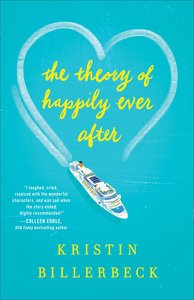 $

17.99

$

12.59
You Save: $5.40 (30%)
Paperback
:According to Dr. Maggie Maguire, happiness is serious science, as serious as Maggie takes herself. But science can't always account for life's anomalies--for instance, why her fiancé dumped her for a silk-scarf acrobat and how the breakup sent Maggie spiraling into an extended ice cream-fueled chick flick binge.

Concerned that she might never pull herself out of this nosedive, Maggie's friends book her as a speaker on a "New Year, New You" cruise in the Gulf of Mexico. Maggie wonders if she's qualified to teach others about happiness when she can't muster up any for herself. But when a handsome stranger on board insists that smart women can't ever be happy, Maggie sets out to prove him wrong. Along the way she may discover that happiness has far less to do with the head than with the heart.

Filled with memorable characters, snappy dialogue, and touching romance, Kristin Billerbeck's The Theory of Happily Ever After shows that the search for happiness may be futile--because sometimes happiness is already out there searching for you.

"Billerbeck has the most delightful voice I've ever read. I adore her stories, and she returns with an enchanting new novel, The Theory of Happily Ever After. I laughed, cried, and rejoiced with her wonderful characters and was sad when the story ended. Highly recommended!"--Colleen Coble, USA Today bestselling author

- Publisher
You May Also Be Interested In
About "The Theory of Happily Ever After"
:According to Dr. Maggie Maguire, happiness is serious science, as serious as Maggie takes herself. But science can't always account for life's anomalies--for instance, why her fiancé dumped her for a silk-scarf acrobat and how the breakup sent Maggie spiraling into an extended ice cream-fueled chick flick binge.

Concerned that she might never pull herself out of this nosedive, Maggie's friends book her as a speaker on a "New Year, New You" cruise in the Gulf of Mexico. Maggie wonders if she's qualified to teach others about happiness when she can't muster up any for herself. But when a handsome stranger on board insists that smart women can't ever be happy, Maggie sets out to prove him wrong. Along the way she may discover that happiness has far less to do with the head than with the heart.

Filled with memorable characters, snappy dialogue, and touching romance, Kristin Billerbeck's The Theory of Happily Ever After shows that the search for happiness may be futile--because sometimes happiness is already out there searching for you.

"Billerbeck has the most delightful voice I've ever read. I adore her stories, and she returns with an enchanting new novel, The Theory of Happily Ever After. I laughed, cried, and rejoiced with her wonderful characters and was sad when the story ended. Highly recommended!"--Colleen Coble, USA Today bestselling author
- Publisher


Meet the Author
Kristin Billerbeck
Kristin Billerbeck is a Christy Award finalist and two-time winner of the ACFW Book of the Year.
Media
Customer Reviews For "The Theory of Happily Ever After"
Write Your Own Review
Self absorbed plus!
By Ibu Guru,

Dec 01 2018
I was looking for some light reading to take me away from difficult reality here.  The endorsements sounding so promising.  I truly tried to push through to read the whole book, but reading about self-harm, accidental death and spending so much time inside Maggie's head made me feel sick.  So if it doesn't bother you to hear someone's continual selfish rants - this is an ideal book for you.  I hope by the end, Maggie gets saved and applies her own advice.  (God demands and deserves that we love him with all our heart, mind and strength and not just call on him when desperate and occasionally go to church.  Maggie is commended for sharing her "faith" in her book.  Faith in who?  or what?  she shows none - I thought that was what hypocrite does.)  I didn't know whether to give 2 or 3 stars, but give three because I know other people have a higher tolerance for death etc as TV ratings would show.  We have real death here on a regular basis so I have little tolerance for reading about it.
{{review.title}}
By {{review.author.name}},

{{review.reviewCreatedDate | date:'MMM dd yyyy'}}

{{reviewdescription}}
{{review.text}}
---