The Threshing Floor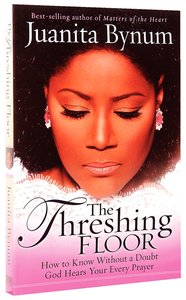 "Now it is your turn to come to the threshing floor." "I believe this is a book that will be a lifelong manual for anyone with a passion to pray." -Juanita Bynum

THE PROCESS OF PRAYER NEVER ENDS.The Father has issued a clarion call for His children to get acquainted with Him. Juanita Bynum wants to bring you to the threshing floor - the place to total surrender to Him in prayer and intercession. From the outer court to the most holy place, she offers prophetic insights and biblical explanations to help you move through progressive steps of prayer. Bynum invites you into a deeper and more intimate relationship in the process of purification. Rise above your natural circumstances. Tap into the supernatural realm, where you will find love, peace, contentment, and the solution to every problem you face - if you will answer the call to pray. Come; God is calling you to the threshing floor...where true intercessory prayer begins.

- Publisher
You May Also Be Interested In
About "The Threshing Floor"
"Now it is your turn to come to the threshing floor." "I believe this is a book that will be a lifelong manual for anyone with a passion to pray." -Juanita Bynum

THE PROCESS OF PRAYER NEVER ENDS.The Father has issued a clarion call for His children to get acquainted with Him. Juanita Bynum wants to bring you to the threshing floor - the place to total surrender to Him in prayer and intercession. From the outer court to the most holy place, she offers prophetic insights and biblical explanations to help you move through progressive steps of prayer. Bynum invites you into a deeper and more intimate relationship in the process of purification. Rise above your natural circumstances. Tap into the supernatural realm, where you will find love, peace, contentment, and the solution to every problem you face - if you will answer the call to pray. Come; God is calling you to the threshing floor...where true intercessory prayer begins.

- Publisher
- Koorong

Almost every Christian wants to have effectual prayer that gets God's attention. Are you a person who simply prays, or do you know for sure that the words in your heart are reaching His ears? In The Threshing Floor, best-selling author Juanita Bynum shows you how to go beyond Jesus? model prayer in Matthew 6 into the prophetic pattern of prayer as revealed through Moses? tabernacle in the wilderness. This life-changing book will: o Enable you to move beyond ?selfish? prayer to become an effectual intercessor who can carry the needs of other to the Lord o Show you how to become a ?doer? of the Word o Help you become a true ?living sacrifice? in the place of prayer o Reveal how God releases supernatural revelation and deliverance through effectual prayer o Explain how the Lord gives strategic instruction and power to those who have obediently passed each stage of prayer to the threshing floor prophetic pattern of prayer
- Publisher


Discover how the seed of true prayer is separated from the chaff of selfish desires. Encouraging you to carry the needs of others to the Lord, Bynum offers practical advice on becoming a "doer" of the Word and a "living sacrifice" as you learn to pray with power. Includes in-depth questions and journal pages.
- Publisher
Meet the Author
Juanita Bynum
Juanita Bynum's powerful gospel ministry in word and song has encouraged and transformed millions of hearts worldwide, as has many of her books. She hosts television programs and often shares her insights in women's ministries. In addition, she has authored bestselling titles such as No More Sheets, Matters of the Heart, The Threshing Floor, and A Heart for Jesus.