The Truth Shall Make You Odd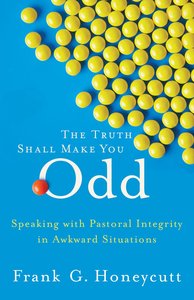 In the life of a pastor, it can be tempting to offer half-truths that make everyone happy and the pastor popular. Speaking difficult truths may anger or alienate church members, but authentic pastoral care sometimes requires it. How can those in ministry speak honestly in the inevitable awkward situations they face?

Here a wise and witty pastor-storyteller draws on his church life experiences over the past twenty-five years--including sermons, funerals, and board meetings--to offer nitty-gritty guidance on handling the uncomfortable situations that all pastors face. Utilizing humor and encouragement and speaking across denominational lines, Frank Honeycutt examines a variety of biblical contexts where the truth of Jesus is difficult to hear, but direly needed--especially in settings where half-truths are the norm. He shows pastors how to courageously speak the truth no matter the risk or cost.

- Publisher
You May Also Be Interested In
About "The Truth Shall Make You Odd"
In the life of a pastor, it can be tempting to offer half-truths that make everyone happy and the pastor popular. Speaking difficult truths may anger or alienate church members, but authentic pastoral care sometimes requires it. How can those in ministry speak honestly in the inevitable awkward situations they face?

Here a wise and witty pastor-storyteller draws on his church life experiences over the past twenty-five years--including sermons, funerals, and board meetings--to offer nitty-gritty guidance on handling the uncomfortable situations that all pastors face. Utilizing humor and encouragement and speaking across denominational lines, Frank Honeycutt examines a variety of biblical contexts where the truth of Jesus is difficult to hear, but direly needed--especially in settings where half-truths are the norm. He shows pastors how to courageously speak the truth no matter the risk or cost.
- Publisher


Meet the Author
Frank Honeycutt
Frank G. Honeycutt (D.Min., Lutheran School of Theology, Chicago), a Lutheran (ELCA) pastor for twenty-five years, is senior pastor of Ebenezer Lutheran Church in Columbia, South Carolina. He is the author of many magazine articles and six books, including Preaching to Skeptics and Seekers; Sanctified Living; Marry a Pregnant Virgin: Unusual Bible Stories for New and Curious Christians and most recently The Truth Shall Make You Odd: Speaking with Pastoral Integrity in Awkward Situations.