The Tutor's Daughter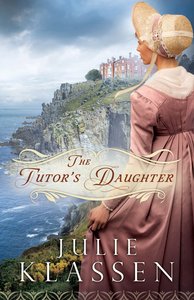 Award-Winning Regency Romance from Bestselling Author Julie Klassen

Emma Smallwood, determined to help her widowed father regain his spirits when his academy fails, agrees to travel with him to the distant Cornwall coast, to the cliff-top manor of a baronet and his four sons. But after they arrive and begin teaching the younger boys, mysterious things begin to happen and danger mounts. Who does Emma hear playing the pianoforte, only to find the music room empty? Who sneaks into her room at night? Who rips a page from her journal, only to return it with a chilling illustration?

The baronet's older sons, Phillip and Henry, wrestle with problems--and secrets--of their own. They both remember Emma Smallwood from their days at her father's academy. She had been an awkward, studious girl. But now one of them finds himself unexpectedly drawn to her.

When the suspicious acts escalate, can the clever tutor's daughter figure out which brother to blame...and which brother to trust with her heart?

- Publisher
You May Also Be Interested In
About "The Tutor's Daughter"
Award-Winning Regency Romance from Bestselling Author Julie Klassen

Emma Smallwood, determined to help her widowed father regain his spirits when his academy fails, agrees to travel with him to the distant Cornwall coast, to the cliff-top manor of a baronet and his four sons. But after they arrive and begin teaching the younger boys, mysterious things begin to happen and danger mounts. Who does Emma hear playing the pianoforte, only to find the music room empty? Who sneaks into her room at night? Who rips a page from her journal, only to return it with a chilling illustration?

The baronet's older sons, Phillip and Henry, wrestle with problems--and secrets--of their own. They both remember Emma Smallwood from their days at her father's academy. She had been an awkward, studious girl. But now one of them finds himself unexpectedly drawn to her.

When the suspicious acts escalate, can the clever tutor's daughter figure out which brother to blame...and which brother to trust with her heart?
- Publisher


Meet the Author
Julie Klassen
Klassen is a fiction editor with a background in advertising. Lady of Milkweed Manor is her first novel. Julie and her husband have two sons and liye in Minnesota.
Customer Reviews For "The Tutor's Daughter"
Write Your Own Review
A worthwhile escape
By Lisa,

May 14 2014
It was a real treat to curl up with this book at the end of a long day. I found it to be an easy read with good character development.  This particular novel had a stronger Christian message when compared to the only other Julie Klassen novel I have read (The Silent Governess).  Also in comparison, I thought 'The Tutor's Daughter' took a couple chapters to get going but I was certainly hooked by chapter 3.  I will definitely be looking out for her other novels now!  
---
Lovely story
By Audrey,

Aug 18 2013
This was a lovely book. I was not disappointed in Julie Klassens most recent book. As with all of her previous books her research on a specific topic was excellent. A good insight into history. She mentioned about a historical figure that went into the ocean to save sailors on a shipwreck. What I found fascinating was a bit of South African history where a hero of old also went into the ocean on his horse to save people on a shipwreck of the coast of stormy Cape of Good Hope. His name was Wolraadt Woltemade. Unfortunately for him he drowned with his brave horse after managing to safe most of the people on the ship. It was a great book and I thoroughly enjoyed reading it.
---
Another great Julie Klassen book
By Alshandra,

Mar 16 2013
I have read a few Julie Klassen books and found that they get better with each one she writes. I really enjoyed this Christian romance book with a Jane Austen feel to it. I enjoy her descriptive details that make you feel as though you are really there in the book alongside the characters. A fantastic read and recommend to Jane Austen, Christian romance and,or Julie Klassen fans.
---
Okay
By Bee,

Feb 22 2013
I had heard a lot about this book, so I was expecting more. But I still enjoyed it. I have a heart for Romance and this was a great story line. I would recommend it to all of you. 
---
Historical intrigue
By Hannah,

Jan 30 2013
While I love Julie Klassen's books, I wasn't sure if I'd enjoy this one due to the 'haunted house' sound of its blurb. I was wrong. I loved it. It has the same high quality writing and relatable characters as the rest of her books. Reading it feels like you're really a part of history.
{{review.title}}
By {{review.author.name}},

{{review.reviewCreatedDate | date:'MMM dd yyyy'}}

{{reviewdescription}}
{{review.text}}
---