The Ultimate Guide to the Names of God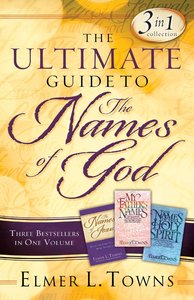 Through learning God's names, we can discover what He wants for us, how He provides for us, and learn new, deeper ways to approach Him in prayer. With this collection of bestselling books, Elmer Towns introduces you to the numerous names of God in the Bible.

Book one of this collection, My Father's Name, shows you what the Old Testament names of God mean and how knowing these names can bring you closer to your Heavenly Father.

Book two, The Names of the Holy Spirit, explores the more than 80 names of the Holy Spirit in Scripture, and shares how each name reveals an essential truth about the Third Person of the Trinity.

Book three, The Names of Jesus, reveals the many names of Jesus in the Bible and how these can help you know Him more fully--as your Lord, Friend, Provider, Intercessor, coming King, and much more.

- Publisher
You May Also Be Interested In
About "The Ultimate Guide to the Names of God"
Through learning God's names, we can discover what He wants for us, how He provides for us, and learn new, deeper ways to approach Him in prayer. With this collection of bestselling books, Elmer Towns introduces you to the numerous names of God in the Bible.

Book one of this collection, My Father's Name, shows you what the Old Testament names of God mean and how knowing these names can bring you closer to your Heavenly Father.

Book two, The Names of the Holy Spirit, explores the more than 80 names of the Holy Spirit in Scripture, and shares how each name reveals an essential truth about the Third Person of the Trinity.

Book three, The Names of Jesus, reveals the many names of Jesus in the Bible and how these can help you know Him more fully--as your Lord, Friend, Provider, Intercessor, coming King, and much more.
- Publisher


Meet the Author
Elmer L Towns
Elmer L. Towns (D.Min., Fuller Theological Seminary) is co-founder of Liberty University, with Jerry Falwell, in 1971, and was the only full-time teacher in the first year of Liberty's existence. Today, the University has over 11,400 students on campus with 39,000 in the Distance Learning Program (now Liberty University Online), and he is the Dean of the School of Religion.
Towns has published over a hundred books including My Father's Names; 10 Sunday Schools That Dared to Change; 10 of Today's Most Innovative Churches; Towns' Sunday School Encyclopedia and the Gold Medallion Award awarded by the Christian Booksellers Association for writing the Book of the Year, The Names of the Holy Spirit. The multi-volume Praying through..... series has been received by a wide readership.
Koorong -Editorial Review.