The Unfinished Reformation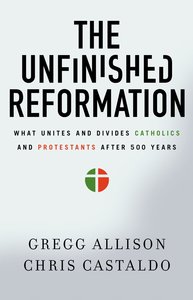 Five hundred years ago, a Catholic monk nailed a list of grievances on the door of a church in Germany and launched a revolution in the history of Christianity. Today there continues to be a number of unresolved issues between the Protestant and Catholic churches, and many experience this ongoing division within their family and among friends and neighbors.Written in an accessible and informative style, Gregg Allison and Chris Castaldo provide a brief and clear guide to the key points of unity and divergence between Protestants and Catholics today. They write to encourage fruitful conversation about the key theological and sociological differences between the two largest branches of Christianity.From the revolutionary events 500 years ago that sparked the Reformation to today, Unfinished Reformation takes a nuanced and thoughtful look at doctrine, practice, and how Protestants and Catholics can have fruitful discussions about the gospel of Jesus Christ.

- Publisher
You May Also Be Interested In
About "The Unfinished Reformation"
Five hundred years ago, a Catholic monk nailed a list of grievances on the door of a church in Germany and launched a revolution in the history of Christianity. Today there continues to be a number of unresolved issues between the Protestant and Catholic churches, and many experience this ongoing division within their family and among friends and neighbors.Written in an accessible and informative style, Gregg Allison and Chris Castaldo provide a brief and clear guide to the key points of unity and divergence between Protestants and Catholics today. They write to encourage fruitful conversation about the key theological and sociological differences between the two largest branches of Christianity.From the revolutionary events 500 years ago that sparked the Reformation to today, Unfinished Reformation takes a nuanced and thoughtful look at doctrine, practice, and how Protestants and Catholics can have fruitful discussions about the gospel of Jesus Christ.
- Publisher


Meet the Authors
Gregg Allison
Dr. Gregg Allison (Ph.D., Trinity Evangelical Divinity School) is Professor of Christian Theology at The Southern Baptist Theological Seminary in Louisville, Kentucky. He came to Southern from Western Seminary in Portland, Oregon, where he had taught theology and church history for nine years. He has also served as adjunct faculty at Trinity Evangelical Divinity School, Deerfield, IL; Elgin Community College, Elgin, IL; Judson College, Elgin, IL; and Institute of Biblical Studies, Western Europe.
He is the author of Historical Theology: An Introduction to Christian Doctrine; Getting Deep: Understand What You Believe About God and Why; Jesusology: Understand What You Believe About Jesus and Why; and A Theology for Christian Education (with James Estep and Michael Anthony).
Koorong - Editorial Review.
Chris Castaldo
Chris Castaldo serves as Pastor of Outreach and Church Planting at College Church in Wheaton. He was raised on Long Island, New York as a Roman Catholic and worked full-time in the Catholic Church for years. He has earned degrees from Moody Bible Institute, Gordon-Conwell Theological Seminary (MDiv) and has completed graduate work at Harvard Divinity School. You may visit Chris online at chriscastaldo.com.
Table Of Contents
Five Hundred Years Ago, A Catholic Monk Nailed A List Of Grievances On The Door Of A Church In Germany And Launched A Revolution In The History Of Christianity. Today There Continues To Be A Number Of Unresolved Issues Between The Protestant And Catholic Churches, And Many Experience This Ongoing Division Within Their Family And Among Friends And Neighbors.written In An Accessible And Informative Style, Gregg Allison And Chris Castaldo Provide A Brief And Clear Guide To The Key Points Of Unity And Divergence Between Protestants And Catholics Today. They Write To Encourage Fruitful Conversation About The Key Theological And Sociological Differences Between The Two Largest Branches Of Christianity.from The Revolutionary Events 500 Years Ago That Sparked The Reformation To Today, Unfinished Reformation Takes A Nuanced And Thoughtful Look At Doctrine, Practice, And How Protestants And Catholics Can Have Fruitful Discussions About The Gospel Of Jesus Christ.