The Union Belle (House Of Winslow Series)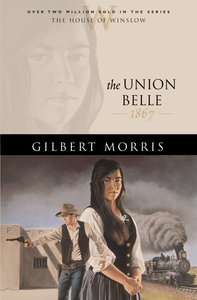 As the nation recovers from the Civil War, Sky and Rebekah Winslow's wayward son Mark is slowly making his way north through Texas after his release from a Mexican prison. Headed for Omaha to work for the Union Pacific Railroad, he is forced to shoot a man, then thrown into jail to await his prison sentence. In a small Texas town where justice will not be served, Mark's only hope is the young woman whom he defended. Lola Montez had attempted to escape the horrible saloon life she inherited from her mother, but she was held there by circumstances beyond her control. When Mark Winslow stopped her attacker, he also became her ticket out of town. If Lola can break him out of jail, surely he will take her with him to look for her father in Omaha. But a jailbreak is a small matter compared to what they will face. Mark becomes a trouble-shooter for the Union Pacific, responsible for law and order in the towns that spring up as the transcontinental railroad heads west, and he must live by his gun. Lola must live by her iron heart and find her way in a West where only the strong survive. While treachery, betrayal, and sabotage lie before them, so does an unexpected confrontation with a kingdom not of this world. House of Winslow Book 11.

- Publisher
You May Also Be Interested In
About "The Union Belle (House Of Winslow Series)"
As the nation recovers from the Civil War, Sky and Rebekah Winslow's wayward son Mark is slowly making his way north through Texas after his release from a Mexican prison. Headed for Omaha to work for the Union Pacific Railroad, he is forced to shoot a man, then thrown into jail to await his prison sentence. In a small Texas town where justice will not be served, Mark's only hope is the young woman whom he defended. Lola Montez had attempted to escape the horrible saloon life she inherited from her mother, but she was held there by circumstances beyond her control. When Mark Winslow stopped her attacker, he also became her ticket out of town. If Lola can break him out of jail, surely he will take her with him to look for her father in Omaha. But a jailbreak is a small matter compared to what they will face. Mark becomes a trouble-shooter for the Union Pacific, responsible for law and order in the towns that spring up as the transcontinental railroad heads west, and he must live by his gun. Lola must live by her iron heart and find her way in a West where only the strong survive. While treachery, betrayal, and sabotage lie before them, so does an unexpected confrontation with a kingdom not of this world. House of Winslow Book 11.
- Publisher


Meet the Author
Gilbert Morris
Gilbert Morris is one of todays best-known Christian novelists, specialising in historical fiction. His best-selling works include Edge of Honor (winner of a Christy Award in 2001), Jacobs Way, the House of Winslow series, the Appomattox series, and The Wakefield Saga. He lives in Gulf Shores, Alabama, with his wife, Johnnie. - Publisher.
Other Titles In The "House Of Winslow" Series View All