The Unlikely Allies (House Of Winslow Series)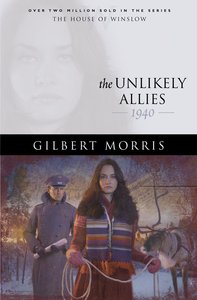 House of Winslow Book 36- Mallory Anne Winslow, daughter of missionaries in Africa, follows God's call to carry the Gospel to the Lapps in the Arctic. But her work is interrupted when Norway is invaded by the Germans. Mallory joins the Resistance Movement and is ordered by her superior to make Derek Raeder--aide to the Nazi colonel--fall in love with her, so she can report the Nazi's plans. When the colonel discovers she is a spy, he orders his aide to arrest her.Will Derek follow the colonel's orders...or his heart?

- Publisher
You May Also Be Interested In
About "The Unlikely Allies (House Of Winslow Series)"
House of Winslow Book 36- Mallory Anne Winslow, daughter of missionaries in Africa, follows God's call to carry the Gospel to the Lapps in the Arctic. But her work is interrupted when Norway is invaded by the Germans. Mallory joins the Resistance Movement and is ordered by her superior to make Derek Raeder--aide to the Nazi colonel--fall in love with her, so she can report the Nazi's plans. When the colonel discovers she is a spy, he orders his aide to arrest her.Will Derek follow the colonel's orders...or his heart?
- Publisher


Meet the Author
Gilbert Morris
Gilbert Morris is one of todays best-known Christian novelists, specialising in historical fiction. His best-selling works include Edge of Honor (winner of a Christy Award in 2001), Jacobs Way, the House of Winslow series, the Appomattox series, and The Wakefield Saga. He lives in Gulf Shores, Alabama, with his wife, Johnnie. - Publisher.
Other Titles In The "House Of Winslow" Series View All