The Untold Story of the New Testament Church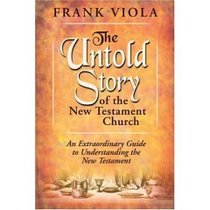 A scholar of the New Testament Church and a forerunner of modern church renewal, Frank Viola casts his gaze back at the birth pangs of first century Christianity in this book. Using a "you-are-there" approach, this epic volume gives readers a first-hand account of how the witness of Christ's testimony impacted the world. In the era right after the Day of Pentecost, the power of Holy Spirit prompted a massive harvest of souls yet a great persecution surged against those preaching Good News to the lost. Now, get up-close with apostles Paul, Peter, and John and learn of their personal struggles to fight for the faith amidst a backdrop of in-house strife and foreign tyranny.



- Publisher 224 Pages

- Publisher
You May Also Be Interested In
About "The Untold Story of the New Testament Church"
A scholar of the New Testament Church and a forerunner of modern church renewal, Frank Viola casts his gaze back at the birth pangs of first century Christianity in this book. Using a "you-are-there" approach, this epic volume gives readers a first-hand account of how the witness of Christ's testimony impacted the world. In the era right after the Day of Pentecost, the power of Holy Spirit prompted a massive harvest of souls yet a great persecution surged against those preaching Good News to the lost. Now, get up-close with apostles Paul, Peter, and John and learn of their personal struggles to fight for the faith amidst a backdrop of in-house strife and foreign tyranny.


- Publisher

224 Pages
- Publisher


Meet the Author
Frank Viola
Frank Viola is an influential voice in the contemporary house church movement. For the last twenty years, he has been gathering with organic house churches in the United States. Frank has written eight revolutionary books on radical church restoration, including Gods Ultimate Passion, Rethinking the Wineskin, Who is Your Covering?, Pagan Christianity, Gathering in Homes and The Untold Story of the New Testament Church. He is a recognised expert on new trends for the church, holds conferences on the deeper Christian life, and is actively engaged in planting New Testament-styled churches. His Web site, frankviola.com, contains many free resources designed to enrich the spiritual lives of Gods people. Frank and his family live in Gainesville, Florida.