The Valiant Gunman (House Of Winslow Series)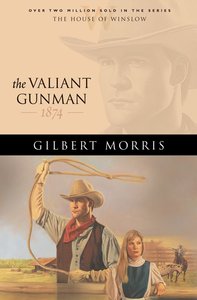 Dan Winslow survived the Civil War with the dream of one day going West and becoming a cowboy with a ranch of his own. But it would be several disappointing years before this son of Sky and Rebekah Winslow found himself on the dusty cattle trail from Texas to Wyoming. For young widow Hope Rogers, the promise of a cattle ranch in Wyoming seemed like the only possible way to hold her impoverished family together. But the sacrifice she had to make to get there was a dreadful price for a woman to pay. When Dan Winslow arrives in Wyoming, he discovers that the powerful cattle baron of the Arrow Ranch is forcing the local small ranchers and homesteaders out of business, including Hope Rogers. Winslow had not come looking for another war, but his only choice is to fight. The desperate ranchers need Dan's gun, and Dan needs their support. House of Winslow Book 14.

- Publisher
You May Also Be Interested In
About "The Valiant Gunman (House Of Winslow Series)"
Dan Winslow survived the Civil War with the dream of one day going West and becoming a cowboy with a ranch of his own. But it would be several disappointing years before this son of Sky and Rebekah Winslow found himself on the dusty cattle trail from Texas to Wyoming. For young widow Hope Rogers, the promise of a cattle ranch in Wyoming seemed like the only possible way to hold her impoverished family together. But the sacrifice she had to make to get there was a dreadful price for a woman to pay. When Dan Winslow arrives in Wyoming, he discovers that the powerful cattle baron of the Arrow Ranch is forcing the local small ranchers and homesteaders out of business, including Hope Rogers. Winslow had not come looking for another war, but his only choice is to fight. The desperate ranchers need Dan's gun, and Dan needs their support. House of Winslow Book 14.
- Publisher


Meet the Author
Gilbert Morris
Gilbert Morris is one of todays best-known Christian novelists, specialising in historical fiction. His best-selling works include Edge of Honor (winner of a Christy Award in 2001), Jacobs Way, the House of Winslow series, the Appomattox series, and The Wakefield Saga. He lives in Gulf Shores, Alabama, with his wife, Johnnie. - Publisher.
Other Titles In The "House Of Winslow" Series View All