The Value of Intimacy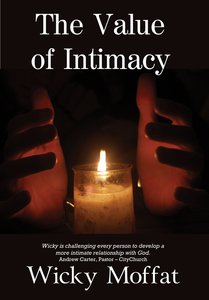 The word intimacy refers to a close, passionate and usually affectionate personal relationship. Intimacy requires dialogue, transparency, vulnerability and reciprocity. We were not only created to crave intimacy with our spouses, but also with God. Intimacy with God is built through fellowship and communion, through serving in love and affection, and fulfilled through worship and adoration. In this book Wicky Moffat uses his personal experiences to explore the keys to building an enduring and genuinely intimate relationship with our God.
You May Also Be Interested In
About "The Value of Intimacy"
The word intimacy refers to a close, passionate and usually affectionate personal relationship. Intimacy requires dialogue, transparency, vulnerability and reciprocity. We were not only created to crave intimacy with our spouses, but also with God. Intimacy with God is built through fellowship and communion, through serving in love and affection, and fulfilled through worship and adoration. In this book Wicky Moffat uses his personal experiences to explore the keys to building an enduring and genuinely intimate relationship with our God.
- Koorong

The word intimacy refers to a close, passionate and usually affectionate personal relationship. Intimacy requires dialogue, transparency, vulnerability and reciprocity. We were not only created to crave intimacy with our spouses, but also with God. Intimacy with God is built through fellowship and communion, through serving in love and affection, and fulfilled through worship and adoration. In this book Wicky Moffat uses his personal experiences to explore the keys to building an enduring and genuinely intimate relationship with our God. "This book is not just written from a theory, but from the journey of a man who is walking with God. I pray that as you read it you will be inspired by its teaching, and encouraged by its example, to do whatever it takes in your world to develop an intimate relationship with God." Jeff Parker Pastor of the Cambridge Elim Church, New Zealand
- Publisher