The Vertical Self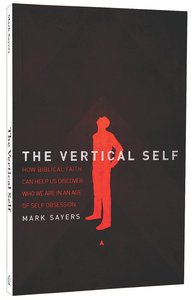 You May Also Be Interested In
Meet the Author
Mark Sayers
<DIV><b>MARK SAYERS</b> is a cultural commentator, writer and speaker, who is highly sought out for his unique and perceptive insights into faith and contemporary culture. Mark is the author of <i>The Trouble with Paris</i> and <i>The Vertical Self</i>. Mark is also the Senior Leader of Red Church. Mark lives in Melbourne, Australia with his wife Trudi, daughter Grace, and twin boys Hudson and Billy.</DIV>
Customer Reviews For "The Vertical Self"
Write Your Own Review
Well worth the price of admission!
By Dave,

Apr 09 2010
Mark Sayers latest book, The Vertical Self is an exploration of how we as Christians have bought into the consumer cultures' mantra that we are the "makers of our own destiny" and can be whoever we want to be. This however, comes with a price, and that is that we don't really know who we are anymore because all of our identity is determined by horizontal forces (media, social circles, advertising, career) rather than being based on the fact that we are made in the image of God. The most challenging aspect of The Vertical Self for me is Sayers antidote to the horizontal self, and it doesn't involve me becoming a superstar  - it involves me getting my hands dirty and perseverering with the mundane activity of pursuing holiness. This is how we are cured of this disease - relooking at everything; seeing ourselves as made in the Creators image and working to become like Jesus which will involve more than just a cute Christian truism in our Facebook status update or becoming the favoured worship leader at our church! (And thank God for that).
I would recommend this book highly and if you get the chance to see Mark speak, take it; I guarantee you'll be challenged.

---
Live Vertically
By Melissa,

Mar 26 2010
I was very excited to get this book in the mail as part of Thomas Nelson's Booksneeze program. In the Vertical Self Mark Sayers looks at how in modern western culture instead of defining ourselves vertically in relationship to God we now attempt to gain a sense of identity horizontally by what the people around us think. The first section looks at various influences in our culture that combine to shape the way we see ourselves. The second part looks at how we might seek to find our true identity by cultivating our souls ... to rediscover holiness.

This really is an excellent book. Mark looks with great insight into today's culture and how it influences us. I must admit even though a couple years back I made the conscious decision to not be defined by other people and put God's will first it is easy to lapse back into old patterns. This book has made me more aware of some of the more subtle influences in my life. Using stories from the bible and also more recent history Mark looks at how we can overcome the messages of our culture to embrace our true self "each day becoming more and more like the people God has designed us to be" ... a must if we hope, as a church, to make any kind of impact in our communities.
---
The Vertical Self - a great, timely read for ALL
By Annette H,

Mar 22 2010
Mark Sayers has a written a book that truly speaks to our times. This is most definitely NOT just another 'christian book' written for the sake of fulfilling a publishing contract. 

The Vertical Self is a call to understanding the nature of western culture's influence on believers, and to understanding the true nature - and all-important how to - of living out a life of robust holiness. 

By delving into our culture's obsession with the high altars of being cool, sexy and glamorous, Mark enables us all to pull back the blinders and see ourselves as we really are, and as we can be. We've been sucker-punched and seduced by popular culture and this is our wake-up call.

The book is both accessible and profound, written in an easy to follow manner and brimming with gems about what's behind the facade of living 'horizontally'. 

It also contains a useful study guide, making it a great resource for small group leaders everywhere. 

Buy it, read it (slowly and thoughtfully), then re-read it and allow the words and spirit of The Vertical Self to take hold in your life. 

This book can't change your life, only you can do that, but this book WILL help you to discover your true identity in God and to live in that reality with passion.

The Vertical Self comes HIGHLY recommended. In fact, buy a second copy for your best friend and read it together! 


{{review.title}}
By {{review.author.name}},

{{review.reviewCreatedDate | date:'MMM dd yyyy'}}

{{reviewdescription}}
{{review.text}}
---