The View From Goose Ridge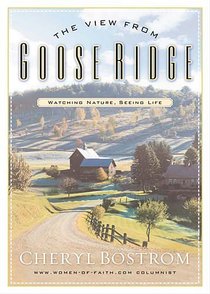 What do barn cats, manure in a field, a pygmy goat, a lonely horse, a muddy pond, and pruning have in common? They offer lessons of grace from the life of Cheryl Bostrom, columnist for the Women of Faith Web site (which gets more than 1 million page views a month)." The View from Goose Ridge offers a refreshing look at the changing seasons in a woman's life -- and a wise perspective on living a life of faith with grace and gentleness. Original observations and often unexpected applications to God's Word have made this column a word-of-mouth favorite. Women across the country are discovering the humor, hope, courage, and faith that can be found at Goose Ridge -- and enjoyed by urban and rural women alike. Now readers everywhere can own a collection of the best of Cheryl's devotionals in" The View from Goose Ridge. It's a fresh perspective for women of faith who need to be reminded of organic spirituality and God's down-to-earth ways with us as believers.

- Publisher 192 Pages

- Publisher
You May Also Be Interested In
About "The View From Goose Ridge"
What do barn cats, manure in a field, a pygmy goat, a lonely horse, a muddy pond, and pruning have in common? They offer lessons of grace from the life of Cheryl Bostrom, columnist for the Women of Faith Web site (which gets more than 1 million page views a month)." The View from Goose Ridge offers a refreshing look at the changing seasons in a woman's life -- and a wise perspective on living a life of faith with grace and gentleness. Original observations and often unexpected applications to God's Word have made this column a word-of-mouth favorite. Women across the country are discovering the humor, hope, courage, and faith that can be found at Goose Ridge -- and enjoyed by urban and rural women alike. Now readers everywhere can own a collection of the best of Cheryl's devotionals in" The View from Goose Ridge. It's a fresh perspective for women of faith who need to be reminded of organic spirituality and God's down-to-earth ways with us as believers.
- Publisher

192 Pages
- Publisher


Meet the Author
Cheryl Bostrom
Tim Stuart, Ed.D., serves as the high school principal at Rehoboth Christian School in New Mexico and has taught at schools on three continents. He is a Gates Millennium Scholar and founder and president of At Promise, Inc. A member of North Carolina's High Plains Saponi Indian Tribe, he is former associate director of Washington State University's Native Teacher Preparation Program at Northwest Indian College. ý Cheryl Bostrom, M.A., author, speaker, and former Teacher of the Year, has taught and mentored junior and senior high school students in both public and Christian schools.