The Way of the Shepherd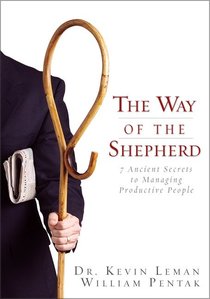 Find inspiration and a fresh perspective on the art of leadership in this account of a cub reporter who lands the interview of a lifetime and walks away with the keys to exceptional leadership. When the reporter meets with the most respected CEO in America, the businessman shares the seven secrets he learned long ago from his mentor - an eccentric but brilliant professor who taught him proven management principles that, while ancient in origin, are applicable in today's fast-paced, high-tech world.

THE WAY OF THE SHEPHERD is a compact, heart-warming story dotted with humour. It will teach you how to lead the people close to you so they will view their work as a calling rather than merely a job, a place to belong rather than a place to work. It shows leaders how to infuse work with meaning and how to engage, energize, and ignite their workforce and gives employees a better understanding of what makes for a quality work experience.


- Publisher
You May Also Be Interested In
About "The Way of the Shepherd"
Find inspiration and a fresh perspective on the art of leadership in this account of a cub reporter who lands the interview of a lifetime and walks away with the keys to exceptional leadership. When the reporter meets with the most respected CEO in America, the businessman shares the seven secrets he learned long ago from his mentor - an eccentric but brilliant professor who taught him proven management principles that, while ancient in origin, are applicable in today's fast-paced, high-tech world.

THE WAY OF THE SHEPHERD is a compact, heart-warming story dotted with humour. It will teach you how to lead the people close to you so they will view their work as a calling rather than merely a job, a place to belong rather than a place to work. It shows leaders how to infuse work with meaning and how to engage, energize, and ignite their workforce and gives employees a better understanding of what makes for a quality work experience.

- Publisher


Meet the Authors
Kevin Leman
Dr. Kevin Leman, an internationally known psychologist, radio and television personality, and speaker, has taught and entertained audiences worldwide with his wit and commonsense psychology.

The best-selling and award-winning author has made house calls for hundreds of radio and television programs, including The View with Barbara Walters, The Today Show, Oprah, CBS's The Early Show, Live with Regis Philbin, CNN's American Morning, and LIFE Today with James Robison, and he has served as a contributing family psychologist to Good Morning America.

He is the founder and president of Couples of Promise, an organization designed and committed to helping couples remain happily married. Dr. Leman is also a charter faculty member of iQuestions.com.

He has written over 50 best-selling books about marriage and family issues, including The Birth Order Book and Sheet Music: Uncovering the Secrets of Sexual Intimacy in Marriage.

Dr. Leman was born in 1943 in Tucson, Arizona, and earned his degree in psychology from the University of Arizona. He and his wife, Sande, make their home in Tucson. They have been married since 1967, and have five adult children.
Bill Pentak
William Pentak has twenty-two years of proven success in revitalizing under-performing organizations. An author, columnist, pastor, consultant and speaker, he has traveled across the nation delivering keynote addresses and seminars. An MBA from the University of Texas at Austin, William was one of the last hires made by Enron before the company imploded in bankruptcy. He currently works in External Communications at Reliant Energy in Houston, Texas. SPANISH BIO: William Pentak tiene 22 anos de aprovar exito en reavilitar dentro de organisaciones de bajo nivel de desempeno. Un escritor, colunis
Table Of Contents
Contents

Introduction: The Interview 9

1. Know The Condition Of Your Flock 15

2. Discover The Shape Of Your Sheep 29

3. Help Your Sheep Identify With You 41

4. Make Your Pasture A Safe Place 53

5. The Staff Of Direction 67

6. The Rod Of Correction 81

7. The Heart Of The Shepherd 97

Epilogue: The End Of The Interview 109

Principles Of The Way Of The Shepherd 115

Notes 121

Selected Bibliography 123
Excerpt
Excerpt from: The Way of the Shepherd
CHAPTER 1 Know the Condition of Your Flock I was an MBA student about to graduate from the University of Texas at Austin,' McBride continued. 'The last semester all of us were exhilarated that we had actually survived the program. Our professors threw so much information at us so quickly, we used to joke it was like trying to take a sip from a fire hydrant. But despite feeling ecstatic, we also felt anxious to find work and therefore busied ourselves with recruitment interviews on the UT campus. Finally the day arrived that I had been dreaming of. I landed a position with General Technologies. I was thrilled to no end . . . and terrified.' 'What terrified you?' I asked. 'I was hired as a manager in the financial operations division, where I would supervise nine people.' 'So you worried you weren't up to the job?' 'Yes and no. I wasn't afraid of working in the finance department; it was the idea of supervising nine people that scared me to death.' McBride turned as if to look at something far away. He shook his head slowly. 'When I look back now,' he continued, 'well . . . it makes me laugh. I was a cocky MBA with all the answers, but I didn't have a clue where to start when it came to managing people.' 'So what did you do?' I probed. 'I went to see one of my professors,Dr. Jack Neumann. He had taught one of our courses in the MBA program. He was also my mentor. The day I landed the General Technologies job I couldn't wait to tell him the good news. I also wanted to ask for his help.' 'And he was the one who taught you the seven principles?' 'Exactly.' And so McBride sat down and began to tell a story that at times sounded more like fiction than fact. But according to him, what he learned from Dr. Neumann had unlocked more of the secrets about becoming a great leader than any other principle or program he'd ever encountered. I sat rapt, ready to hear the secrets revealed as McBride took me back fortyfive years, to April 12, 1957. April 12, 1957 When I landed the position at General Technologies, I sailed down Austin's Speedway Avenue to the School of Business, ran up three escalators, and flew into Dr. Neumann's office. 'Dr. Neumann, I got the job! Can you believe it? General Technologies hired me!' 'That's great! Congratulations, Ted,' he said, putting his hand on my arm. 'GT is a great company. I'm proud of you. I knew you could do it. What are you going to be doing for the company?' 'I'm going to be a manager in the finance department!' I declared. 'That's great!' Neumann replied. 'All those late-night hours you spent studying finance really paid off. You'll be a wonderful asset to the company and a great representative of our program. I know you'll do well.' 'Thanks, I certainly hope so,' I said, dropping my head. 'I've spent so much energy trying to get my degree and get through interviews that I hadn't given much thought as to whether I'm actually up for the job.' Dr. Neumann silently eyed me from across his desk.'Okay, Ted, what's wrong? Are you afraid you can't do the job? You shouldn't be; with few exceptions, you made straight A's.' 'Well, Dr. Neumann, it's not that. It's not the finance part that scares me,' I stammered. I was embarrassed to look so weak in front of someone I admired so much. 'Well, what is it, then?' 'It's the management part. I'm going to be supervising nine people. I've never supervised one person before, and now I'm going to be supervising nine. Dr. Neumann, I have to be honest with you. I'm scared to death at the prospect. I don't even know where to begin.' I fumbled with my hands for a few moments, then finally looked up and blurted out, 'Can you help me?' Almost immediately an awkward silence filled the room. I felt like I had just let down my mentor. Jack Neumann taught in one of the best MBA programs in the country. I can't believe I just did that, I thought. He doesn't have a lot of spare time on his hands, especially for students who already occupy nine-tenths of his every waking hour. Dr. Neumann sat in silence, staring a hole through me as if he were weighing an idea. Finally, after what seemed like an eternity, he spoke. 'Ted, I've never known a student, including you, who didn't have spring fever this close to the end of the program. It's difficult enough for students not to mentally check out of here, especially after they land a job. I'm also aware that you have big assignments due in your strategy and finance classes and a final exam in B-Law that comprises 100 percent of your grade. I can teach you the secrets of managing people, but you'll have to keep up your course load and give me your Saturdays from here to graduation.' Now it was my turn to stare back at him. He was right. I did have spring fever. I counted MBA School as one of the greatest experiences of my life, but all I wanted now was out. Neumann interrupted my thoughts. 'Ted, I don't mind giving you my Saturdays, but I won't do it if you don't have a teachable spirit. The opportunity cost of my time is too high. Think it over and call me tonight to let me know what you decide.' That evening I went home and mulled it over. Surely, GT would train me, I thought. Then again, Neumann was no mere college professor with his nose stuck in a textbook. He was voted Outstanding Professor of the Year a half-dozen times, partly because he had real-world experience. In fact, he still had a thriving consulting practice. I didn't have to think long. 'I must be insane,' I said out loud as I dialed Dr. Neumann's number. But before I could change my mind and hang up, he answered the phone. 'Hello,' he said. 'Dr. Neumann . . .' 'Yes, Ted. What did you decide?' 'I've decided to do it.' 'Good,' he said. 'Be at the Business School on the corner of Speedway and Inner Campus Drive at 8:00 A.M. tomorrow. I'll swing by and pick you up. Oh, and wear a pair of jeans you don't mind getting dirty.' I hung up the phone, my mind buzzing with questions. What had I gotten myself into? Jeans? Despite my reservations, at eight the next morning I stood on the corner, wondering if I wasn't the dumbest MBA on campus. I already had my job, after all. A moment later, an old, beat-up pickup with fading paint pulled around the corner and stopped in front of me. The passenger door flew open and, to my astonishment, there sat Dr. Neumann, dressed in a T-shirt, faded jeans, and a pair of wornout cowboy boots. I had never seen him wear anything but a coat and tie. Before I knew it, we were squeaking and bouncing our way to Neumann's ranch home in the Texas hill country. Pulling off the farm-to-market road, we wound our way up the long driveway to his ranch. The size and beauty of the ranch struck me. Maybe I should get into consulting, I thought. Halfway to the ranch house, he turned onto a side road. About a half mile down on the right, I saw a large, picturesque